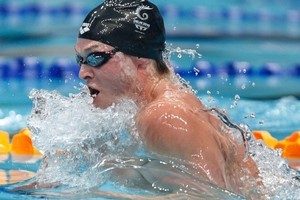 Breaststroker Glenn Snyders felt no disappointment at having to share second place on the podium after a rare dead heat in his 50m final at the Commonwealth Games pool last night.
The North Shore swimmer recorded 27.67s in beating his own national record, and shared that time with Australian Brenton Rickard. Both trailed South African Cameron van der Burgh, who won in a Games record time of 27.18s.
There was also a silver for Daniel Bell in the 100m backstroke, and a bronze for Hayley Palmer in the 50m freestyle sprint.
But Snyders had the rare treat of sharing a podium spot.
"It feels great to me. It just feels like second," Snyders said.
Snyders, who had qualified equal quickest with van der Burgh in 27.86s, had to go plenty in the final 20 metres as he trailed the pacesetters early. He gave it a real crack too.
"There's no disappointment at all. I wanted to go under the New Zealand record and I did and on top of that I got a medal, so I couldn't be happier."
By contrast Hawkes Bay swimmer Bell, while satisfied to have won a medal, felt he had more in him.
He chased home England's Liam Tancock, who won in a Games record 53.59s from Bell in 54.43s, and Wellington's Gareth Kean took a good fifth in 54.91s.
"We got the medal which is all we came here to do," Bell said."I would have liked the gold and with a better time.
"I know I've got a 53 [seconds] in me, it just didn't come out tonight."
Palmer got the night off to a strong start for the New Zealand squad with a bronze in the 50m final.
Having broken her own national record in the heats, the 21-year-old English-born Palmer gave it a further haircut, clocking 25.01 in finishing behind Yolane Kukla, of Australia, who won in 24.86s, and Fran Halsall of England. Indeed Palmer was just .03s off the silver medal.
"It's a great event to swim and to know I'm going faster every time is a great boost for my confidence," the North Shore swimmer said.
"I would have liked to go under 25 seconds, but I guess I'll have to save that for next time."
Yesterday morning, Melissa Ingram broke the Games record in the 200m backstroke with a time of 2min 09.43s. But the final 50m in last night's final did for her.
Ingram, starting in lane four, was third at halfway, .69s behind leader Elizabeth Simmonds, of England.
She turned for home in fourth and found the tank was empty.
Ingram trailed home seventh, in 2:09.53, still just .10s off the time she had set a few hours earlier.
Australian Meagen Nay won in 2:07.56, to take Ingram's briefly-owned record with Simonds second .34s back and Australian Emily Seebohm third.
"I tried to swim my own race, but there just wasn't enough there on the last 50 metres to go with everyone else," Ingram said.
"I turned at the 150 and saw I was fourth and really tried to gun the last 50, but there wasn't enough left."
Ingram was disappointed, but noted the quality of the field.
"It's still one of my best times. It was a world-class field and it was always going to be a tough one."
Auckland's Lauren Boyle qualified fastest for the 400m freestyle, but trailed in fifth in 4:09.45, which is still a national record.
England's Rebecca Adlington won gold in a Games record 4:05.68.