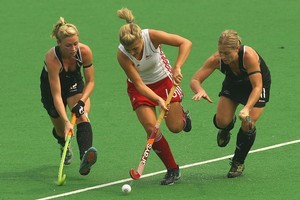 Katie Glynn's timing could not be faulted last night.
The Auckland striker chose an ideal time to bag her first international hat trick as the Black Sticks cleaned up their toughest group rivals England 4-1 in the Commonwealth Games tournament.
Okay, if you choose to be picky, nailing three to win the gold medal would be the optimum moment, but this was an important day for the Black Sticks. It was a case of world No 7 beating the team ranked two places higher. Just as crucially, they should avoid Australia in the semifinals next week. However that's not cut and dried after the Aussies were held 1-1 by South Africa earlier last night.
But what mattered last night was the confidence the Black Sticks got from a quality performance in steamy conditions at the Dhyan Chand Stadium. They are unbeaten so far, with their final pool game against Canada late tonight to come.
"We've improved with every game, which is a real positive," said 21-year-old striker Glynn.
"We wanted to go out really aggressive and get on top of them. We worked well as a unit, and yeah it felt good out there."
Glynn is a distinctive figure in a team loaded with flying blond ponytails. She's a strapping figure leading the attack, hard to shift off the ball and as she demonstrated amply last night, has a good nose for goal.
England took an early lead, courtesy of a neat flick shot from Ashleigh Ball but New Zealand were in front by the interval. They got a shade lucky with the equaliser, Sam Harrison nudging the ball in after sloppy defending from England against a hopeful cross slung in from the right.
But there was nothing fortuitous about Glynn's first goal shortly before halftime. She broke into the circle, pushed the ball to the right and running across the face of the goal slapped a shot past three defenders as she tumbled to the ground.
With the defence operating well, goalkeeper Beth Jurgeleit pulling off a handful of useful saves, the Black Sticks had a good measure of control against their opponents. Glynn increased the lead, surging into the circle past a defender before scoring with a reverse stick shot, and she completed the hat trick a couple of minutes later, neatly pushing home a Charlotte Harrison cross from the goal line. New Zealand have scored 14 goals from three pool games and that's satisfying after a disappointing World Cup earlier in the year.
"One of our focuses was to get into really good positions in the circle and put away the opportunities we created. Personally I was pretty happy with that," Glynn said.
The win puts New Zealand into the semifinals, with India, South Africa or Australia the opponents. New Zealand's women have won only one Games medal, a bronze in 1998.
This team have the opportunity to at least emulate the team of 12 years ago, and coach Mark Hagar is cautiously upbeat about progress. "As long as we play to the style we want to and move the ball and hold it for long periods I think we'll challenge most teams," he said.