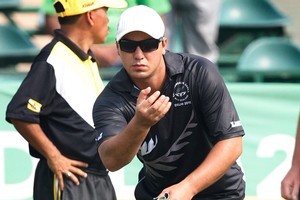 A switch in positions continued to pay dividends for the New Zealand men's pair as they extended their winning streak at the bowls tournament.
The run by Nelson's Richard Collett and Aucklander Danny Delany follows losses in their first three rounds, a situation that led them to change places in a bid to get something going. Since Delany shifted to lead and Collett to skip, the pair have worked themselves from the bottom of the table to being in with a chance of making the medal rounds. Wins over Samoa by 7-10, 10-4, 3-1 and Namibia by 15-7, 14-4 followed.
They are only one win outside a playoff spot. Under the Games format, the top three teams in each section qualify for post-section play.
Today they are up against the top two teams in their section - England and leaders Malaysia.
Collett said he and Delany had effectively been in sudden-death mode since their three defeats.
"Another loss and you're pretty much history," he said. "It's a tough day tomorrow, but if we can get those two, then we're certainly a fighting chance to be in there."
The men's triple of Andrew Todd, Shannon McIlroy and Richard Girvan won both their matches to stay in contention for post-section play in their event. They beat Scotland 8-5, 9-7 and Canada 4-10, 12-3, 5-0 to sit fourth in their group.
In the women's competitions, the pair of Manu Timoti and skip Jan Khan split their two matches to sit second in their group. They lost a top-of-the table clash with Zambia 16-6, 5-10, 4-0, but bounced back to defeat the Cook Islands 9-7, 14-2.
The triple of Genevieve Baildon, Dale Lang and skip Karen Coombe beat Namibia and stay as one of two teams in their section with just one loss. Down one set and 3-10 with two ends to go, they forced a tie-break, which they took to complete a 6-9, 11-10, 5-0 result.
- NZPA