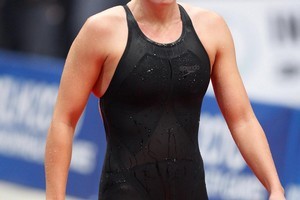 Melissa Ingram has set a Commonwealth Games 200m backstroke record, joining a tsunami of New Zealand swimmers in finals action today at the Commonwealth Games pool.
Ingram, a 25-year-old Aucklander, this morning won her heat in two minutes, 9.43 seconds to go into this evening's final as fastest qualifier and games recordholder.
Unlike games records set by 100m men's breaststroker Glenn Snyders and yesterday by 100m men's backstroker Daniel Bell, Ingram's mark will stand for more than a matter of minutes.
Snyders and Bell were both stripped of their records by swimmers in the very next race.
Games silver medallist Lauren Boyle sealed herself a place in the women's 400m freestyle final this evening, qualifying fastest in 4min 10.31sec.
Boyle, who led off the silver medal-winning 4x200m relay team two days ago, qualified .17sec faster than final heat winner, Alexandra Komarnycky of Canada.
Bell and Snyders - in the men 's 50m breaststroke - shape as medal prospects in today's evening session, as do 50m freestyle dasher Hayley Palmer and the women's 4 x 100m freestyle relay team.
Bell, who qualified third fastest, will have company in his final from 200m men's backstroke silver medallist Gareth Kean, who must also rate a podium chance if he starts well.
Snyders yesterday qualified equal fastest for the 50m breaststroke, deadheating with South African Cameron van der Burgh in 27.86sec.
Emily Thomas is in the women's 50m backstroke semifinal, while Palmer clocked the second fastest qualifying time in the 50m freestyle.
- NZPA