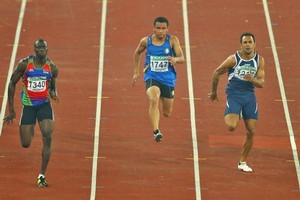 The name suggests he's stumbled into the wrong tower block at the athletes' village, but Ian McKenna is all Niue islander.
They might be medal-less - that's since 1930, not just this week - but, per head of population, Niue is dwarfing all others here in Delhi with three per cent of Pacific island's population of 1200 making up the team.
Forty-three Niueans, 37 of them athletes, are leaving a colourful trail across this vast city whenever their team is in action.
Niue is represented across five sports - weighlifting, athletics, shooting, bowls and wrestling - with their one outside shot at a medal women's 75kg weightlifter Narita Viliamu.
The team is fairly evenly split, with 21 on the island, 21 living in Auckland and female wrestler Justine Kalauni based in Sydney.
McKenna, a former Aucklander, moved back to Niue several years ago. He is part of the 12-strong lawn bowls contingent battling stifling heat and swooping eagles on the artificial greens at the Jawaharlal Nehru complex alongside the near-empty athletics stadium.
What Niue, 2000km north of New Zealand and sandwiched between Tonga, Samoa and the Cook Islands, lacks in inhabitants it makes up for in actual size, with its 269sq km of land bigger than all 15 Cook Islands put together.
Even still, McKenna said if he had a buck for every question he'd fielded about Niue's whereabouts he'd fly home next week with little need to set foot in his taro plantation again.
"Mate, I'd be a bloody multi-millionaire! We're getting asked so much we've talked about getting maps printed off to carry around with us. It's no hassle though, you've got to love the fact people are interested."
Winless in the triples until yesterday, Niue caused the boilover at the bowls with a shock 8-6 4-13 2-1 defeat of the New Zealand men to dent the Kiwis' medal hopes.
Cheering the triples' every shot was a vocal pocket of supporters, including Kalauni and super heavyweight weightlifter, Aucklander Daniel Nemani.
Unlike the Kiwi team who have been closeted in the village, emerging only to compete due to security concerns, Kalauni said the Niueans were eager to see as much of Delhi and the games action as their schedules allowed.
"We're big on supporting our teammates, showing them we're there for them and making a bit of noise. Most of us might be here for the experience (but) if we do personal bests then it's like a gold medal anyway."
Nemani is an impressive man-mountain, clocking in at 130kg+, although the Aucklander is also keeping a sneaky eye on Kiwi athletes' progress.
He's been paying less attention to his widening girth, feasting long and large on the culinary offerings at the village. He doesn't compete until early next week.
"It's good not having to worry too much about what goes into my mouth," Nemani said. "I see a lot of the other athletes, mainly the boxers, weightlifters and wrestlers, being really careful, but I'm here to take full advantage of the dining facilities.
"There's plenty to eat, it's a good selection and I've tried it all."
Nemani said the Games coverage, shown in Niue via SKY Television, would be dominating island life. "I'm hearing it's huge and people are crowding around every available TV, scanning hard to see if they can spot the yellow flag we're all carrying around with us."
- APN