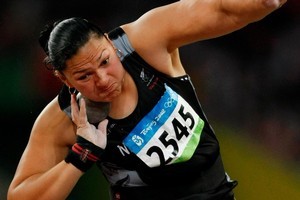 Didier Poppe knows it is best to give Valerie Adams a bit of space when she's got her game face on.
The prohibitive favourite for the shot put continued her pre-meet policy of steering clear of the media, but her French coach was happy to throw some light on Adams' build-up and frame of mind.
"The tension is building up already over the past few days," said Poppe ahead of the shot put final early on Sunday morning (NZ time). "You have a routine before a competition that helps you to deal with the tension. Today she will have a light training, tomorrow she will have a rest.
"She knows well what she needs at this time so I try not to interfere with that," he said.
Asked whether that meant Adams could get a little more curt in the days immediately before a big meet, a wide smile appeared on Poppe's face.
"Yes, yes, yes. She wants to do well. You never know how something will go, so there is a bit of tension.
"She knows she will get this medal that everyone expects, but she wants to do it the right way, with a good performance."
Trinidad's Cleopatra Brown looms as Adams' closest competitor, but in reality the New Zealander only needs a competent performance to win. She wants a lot more than that. After making a coaching change and a raft of technical and physical changes, every meet is a chance to refine the new technique until they become second nature.
After a season in Europe where she battled Nadzeya Ostapchuk for supremacy and came out on the wrong end more than the right, it must be difficult for the Beijing Olympic champion to find motivation against a weaker field.
"Motivation is not a problem," Poppe said. "It is a different mentality though. Because she feels the weight of the expectation of the whole country and she does not want to deceive.
"She is the sort of person who will say, 'If they expect something from me, I have to deliver at the right time'."
The oppressive heat and moth infestation of the Delhi infield could produce a unique set of challenges, which is why the pair have spent the past two weeks training in Singapore.
"The training camp we have had has been very good," Poppe said. "Physically she is at her best and now we shall see the mix between physical and technical."
Poppe said that Adams had produced some of her best physical tests in Singapore, while technically they went through good days and bad days.
Singapore was chosen to replicate the heat she will face in Delhi, where the shot is likely to become quite slippery in the later rounds, putting even more pressure on technique rather than power.
"You start to sweat, the shot becomes slippery, you get a bad feeling and you can miss some throws. She has experimented a lot in Singapore."
Don't be surprised to see the first throws of the night being the longest. And don't be surprised if the longest throw at the end, belongs to Adams.