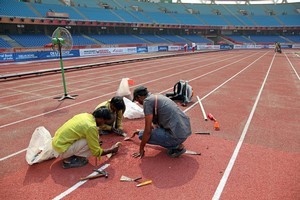 After averting the ultimate embarrassment of having to delay the start of athletics competition because of a damaged track, Commonwealth Games organisers were dealing with a transit driver boycott yesterday.
Competition started precisely on time in the track and field events yesterday, to the surprise of some commentators. Olympic triple jump champion Jonathan Edwards, who saw the condition of the track and infield on the eve of the first events, had described it as "beyond anything that I imagined".
A last-minute rush to fix and clean sections of the track and re-lay turf in the infield - caused by vehicle and human traffic during Monday's spectacular opening ceremony - got the stadium in good enough shape for the international track federation to approve it for competition hours before athletes were set to race.
England's Mark Lewis-Francis won the first heat in a men's 100m field lacking the Commonwealth's biggest star, Usain Bolt, shortly after the competition kicked off with the women's parasports shot put.
Uganda's Moses Ndiema Kipsiro won the first gold medal of the track programme, holding off Kenya's Olympic silver medallist Eliud Kipchoge to finish in 13 min 31.25 sec.
However, with one problem solved, another took its place. Press Trust of India reported that 800 bus drivers had stopped turning up for Games duties because of long hours and heavy security, but organisers were bringing in more than 900 local drivers instead.
The bad news is, there's no time for training. On the upside, most are local school bus drivers who are not busy because school and college students are on holiday.
The driver boycott was not among the problems Commonwealth Games Federation president Mike Fennell and local organising committee chairman Suresh Kalmadi addressed at a news conference yesterday, where Fennell promised that "all systems are go" for the track and field competition.
Kalmadi, asked why most stadiums were almost empty on the third day of competition, said an additional 50,000 tickets had been sold on Wednesday.
He had earlier said organisers might have to give away tickets to children and low-income people to fill seats.
Another technical glitch which upset some boxers at the weigh-in was fixed, with Kalmadi saying faulty scales had been checked.
World record holder Gagan Narang has been on target at the shooting range to help shift some of the spotlight to sports. After helping India claim its first gold of the Games on Wednesday, he shot a perfect 600 in qualifying for the 10m air rifle and then set a Games record of 103.6 points in the final round to win his second New Delhi gold - at the expense of compatriot and Beijing Olympic champion Abhinav Bindra. That was India's sixth gold medal, keeping the hosts in second place.
Indian shooters collected two of the other three golds on offer at the range yesterday and the host country finished day three of competition with 11 gold medals and 24 medals overall.
Australia leads the way with 21 gold medals and 46 overall after 53 events. Its cyclists collected the first three golds yesterday before Malaysia's Josiah Ng won a dramatic men's keirin race to end a run of six wins for the Aussies.
Another Malaysian, Azizul Hasni Awang, crossed first in the keirin but was relegated to last for aggressive riding.
Teenager Megan Dunn produced an upset win over world champion Tara Whitten of Canada to win the women's points race for Australia, which also won the women's team sprint and the 40km points race for men.
The Australian swimmers won six of the nine gold medals in the evening pool programme, including both 4x200m relays.
Alicia Coutts collected her second gold in two days by winning the women's 100 freestyle, and teammate Leisel Jones led an Australian sweep of the medals in the 200 breaststroke.
Jason Dunford, a US-based swimmer, won Kenya's first gold in the 50m butterfly, holding off returning veteran Geoff Huegill of Australia and former world record holder Roland Schoeman of South Africa.
James Goddard won the 200 backstroke, helping England boost its tally of golds to six and 26 medals overall. South African Cameron van der Burgh won the 100 breaststroke, and Australia's Matthew Cowdrey improved his own world record in the Paralympic 50 S9 category, winning in 25.33sec.
- AP