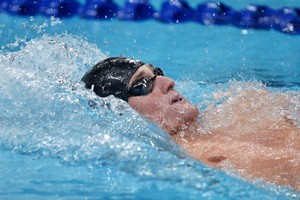 There was no celebratory sleep in for Commonwealth Games swimming silver medallists Gareth Kean and Amaka Gessler today, as they had to be up early to swim the heats of their next event.
Kean, 19, was back in the pool for the men's 100m backstroke after swimming to the podium of the 200m backstroke last night, while 4x200m relay swimmer Gessler had the women's 50m freestyle dash on her plate.
Both will be back in action in the evening session, after easing into the semifinals. New Zealand has no one swimming for a medal this evening.
Kean was fourth in his heat in 55.85 seconds, while his teammate and friend Daniel Bell won his heat in 55.05sec. Bell is second fastest qualifier, Kean eighth.
Welshman Marco Loughran headed the 16 qualifiers clocking 54.95sec, winning Kean's heat.
Gessler and Hayley Palmer both made the 50m freestyle final, Gessler swimming 26.40sec to be ninth of 16 qualifiers, while Palmer's 25.58sec placed her a handy fourth.
Fran Halsall of England was fastest qualifier, in 25.05sec.
Glenn Snyders was fastest qualifier for today's men's 50m breaststroke semifinals when he won his heat in 28.15sec. He yesterday finished sixth in the men's 100m breaststroke after setting a Games record in the semifinal.
Emily Thomas, 20, will also return to the pool for an evening session semifinal, after qualifying sixth fastest in the women's 50m backstroke.
Thomas, who this year won a bronze in this event at the Pan Pacific championship, swam 29.17sec for second in her heat to Australian Sophie Edington, who clocked 29.07sec.
Moss Burmester eased into the men's 100m butterfly semifinals by finishing third behind Australian Chris Wright in his heat.
His time of 54.69sec had him ninth of the 16 qualifiers for this evening's semifinals, from which eight will make the finals. Australian Geoff Huegill was swiftest in the heats, stopping the clock at 52.87sec.
- NZPA