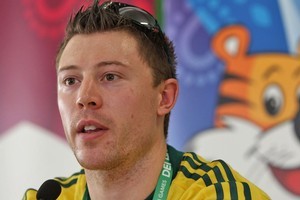 A second Australian athlete in as many days is in hot water for directing rude hand gestures towards Commonwealth Games judges.
Cyclist Shane Perkins made two rude hand gestures to officials after being booted out of the keirin gold medal race on day three overnight.
He bounced back just hours later for a new Games record in the men's sprint qualifying.
Perkins is expected to be carpeted by Australian Commonwealth Games officials about his behaviour during the keirin.
After winning his semi-final to qualify for the final, Perkins was relegated for what officials called "dangerous riding" - the Australian blamed in part for two cyclists falling in the race.
He then angrily gestured twice to the judges who'd penalised him as he won the seventh to 12th place ride-off - once on crossing the finish line and a two-fingered salute on his victory lap.
Any punishment to Perkins will be decided on Thursday, when the men's sprint final is scheduled.
Yesterday Australian grappler Hassene Fkiri was stripped of his silver medal after being disqualified from a gold medal Greco-Roman wrestling bout.
Fkiri raised his middle finger at officials after the bout against Indian Anil Kumar.
Fkiri will return to the Commonwealth Games wrestling venue later today to apologise for his actions.
Australian officials have confined him to the village for the remainder of the games.
AAP/Herald online