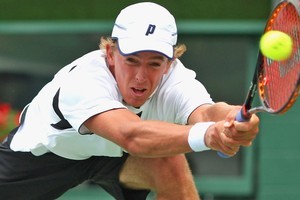 New Zealanders Marina Erakovic and Rubin Statham took short but diverse routes today into the quarterfinals of their respective singles events at the Commonwealth Games.
Erakovic, the No 8 seed, barely raised a sweat in New Delhi's heat as she eased past Bermuda's Jacklyn Lambert 6-0 6-0 in just 34 minutes.
Statham, the sixth seed, claimed his spot in the men's last eight when Scottish opponent Colin Fleming retired after losing the first set 6-4.
Fleming, who had a tiring three-setter in his opening singles yesterday, is a doubles specialist and he and partner Jaime Murray, brother of world No 4 Andy Murray, have a match tonight.
Both Erakovic and Statham are certain to have the crowd against them when they step back out on to the hardcourts at the R K Khanna tennis venue tomorrow.
They will both face Indian opposition - women's second seed Sania Mirza and men's top seed Somdev Devvarman.
Erakovic, ranked 321 in the world, goes into her clash with Mirza having won 23 games in succession.
She reeled off 11 in a row in her 6-1 6-0 round-one victory over Nikki Fountain of the Bahamas.
Neither Lambert nor Fountain has a world ranking and Erakovic had expected the early rounds to pose not too much of a threat.
"But I still take it pretty seriously," she said.
"I still try to do everything right and it's good to get another win."
She said she hadn't had a pair of scores like that since her junior days in New Zealand and Australia.
What she had been able to do was use the matches to get familiar with the conditions and to adjust to being outside again after recent indoor tournaments.
She was particularly pleased with the way she served against Lambert - 67 percent of her first serves were good and she went on to win every one of those points.
She and Mirza, the world No 131, have met once before, on grass in Birmingham in 2008.
It was the year that Erakovic rose to a career-best ranking of 49 in the world and she beat Mirza comfortably in straight sets.
"It's going to be pretty exciting and hopefully there'll be a big crowd," she said.
"She's a bit of a celebrity here. It will be a good match and in completely totally different conditions from last time."
Mirza advanced to the last eight via a 6-0 6-2 win over the Cook Islands' Brittany Teei, a player Erakovic knows well from her junior days in New Zealand, with whom she warmed up today.
- NZPA