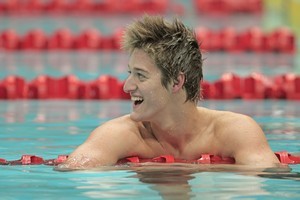 New Zealand got its first medal in the pool, while the cycling team doubled its haul at the Commonwealth Games in New Delhi tonight.
Wellingtonian Gareth Kean powered home to grab silver in the men's 200m backstroke, swimming a New Zealand record of one minute 57.37 seconds in chasing home James Goddard of England, who set a Commonwealth Games record with a time of 1min 55.58sec.
It was the first medal at the pool for New Zealand.
Meanwhile, Ashburton cyclist Lauren Ellis took silver in the women's 25km points race and keirin rider Simon van Velthooven won a controversial bronze for the New Zealand track cyclists to double their medal count.
The pair join individual pursuit silver medallist Jesse Sergent and 1km time trial bronze medallist Eddie Dawkins on the first day as New Zealand podium-climbers at the Indira Ghandhi Sports Complex velodrome.
Ellis was in hot contention for gold entering the 10th and final sprint but couldn't match the legs of Australian winner Megan Dunn, who crossed the line first to extend her points total to 45.
Ellis, who registered 40 points, needed to win the final sprint to guarantee gold and found herself in a good spot on Dunn's shoulder heading into the final turn. However, she couldn't push on.
"I'm so proud to get the silver medal but you always go out wanting to win the race," she said, reflecting on a final lap that so nearly went her way.
"I had Megan's wheel but I lost it. I put in so much energy just to get myself in that position. I gave it a go but it just didn't pay off.
"There's a good calibre of riders there. With the world champion there, I stuck with her because I knew she would be wanting to go for the break and that paid off."
Teammates Joanne Kiesanowski and Rushlee Buchanan played vital roles in helping Ellis to the front at crucual moments finished sixth with 14 points and seventh with nine points respectively.
Following a dramatic keirin final, Palmerston North rider van Velthooven appeared resigned to fourth place but punched the air with joy when he was promoted one place minutes later.
Track officials ruled that Malaysian Azizulhasni Awang had illegally used his elbows on the hips of the New Zealander midway through the final lap, so disqualified him.
World championship silver medallist Awang had crossed the line first so the whole field was promoted, with compatriot Josiah Ng claiming gold and England's David Daniell silver.
In squash, Joelle King went within a whisker of pulling off an upset in her Commonwealth Games quarterfinal women's squash match against England's Alison Waters today.
King, seeded 12th, had the job ahead of her against Waters, who is ranked fourth in the world and is the third seed in the singles.
But King, who has improved rapidly this year to earn a world high ranking of 20th, battled all the way and Waters was mighty relieved to finally win 12-10, 9-11, 11-5, 10-12, 11-2.
The other New Zealander involved in the squash quarter-finals, Jaclyn Hawkes, went down 11-8, 11-4, 12-10 to second seed Jenny Duncalf of England.
In bowls, New Zealand's men's triples of Shannon McIlroy, Andrew Todd, Richard Girvan defeated Brunei 10-3 10-3, but then suffered a shock 8-6 4-13 2-1 loss to Nuie later in the day.
Jan Khan and Manu Timoti lost to Canada 9-7 7-8 3-2 in the women's pairs.
In swimming Gareth Kean was eighth fastest in two minutes, 00.86 seconds in his 200m backstroke heats with teammate Daniel Bell 12th overall in 2min 02.34sec. Natalie Wiegersma clocked 1min 01.17sec to be 13th overall after the 100m butterfly heats.
In synchronised swimming, Kirstin Anderson was sixth in the solo technical routine with 36.167 points.
Tennis player Marina Erakovic eased into the quarterfinals of the women's singles after beating Bermuda's Jacklyn Lambert 6-0 6-0.
In Greco-Roman wrestling, Stephen Hill lost to South African Dean van Zyl 7-1 in the 84kg category.
- NZPA