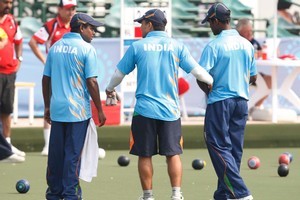 India are chasing a hatful of medals to make their Commonwealth Games a deep well of national pride.
They might not get any at the bowls competition, but that's where you'll find one of the more inspiring stories of the Games.
When India won the Games bid they had to produce a bowls team as one of the core sports. Only two areas had a bowling green, in the far east states of Jharkand and Assam.
The game had slipped away after independence but resurfaced at the National Games in Guwahati, Assam, three years ago.
Richard Gale, an amiable 58-year-old Australian, was hired by the Indian sports authority in December 2008 to get the programme up and running.
It became a case of rounding up anyone who showed a bit of promise and interest. Players come from two areas, around Ranchi in Jharkand, and the Guwahati-Assam area.
Conditions were grim. Players practised on the rubber matting in swimming pool corridors.
"We were using a hockey pitch to train on, or a grass field. It's been very hard for them," Gale said.
The bowlers come from often desperate circumstances. Some are illiterate, few speak any English and there were life and social skills to be imparted, such as tying shoelaces or wearing a jersey.
"They discard rubbish on the ground, urinate on walls round the streets because there's no public toilets, eat food with their hands, and we've tried to change them so when they go out of India they don't get themselves into any trouble," Gale said.
The bowlers have been based in Delhi for six months and are staying in a hotel. It is all a sea change from where life had them a short time ago.
Gale and his partner, Julie Klossies, are de facto parents to the bowlers, of whom the 15-year-old lead in the triples, Tania Choudhury, is the youngest.
The fledgling bowlers have been playing the game for less than two years and Gale is trying to make them aware there is a pathway to a better life. If they win a national title or a medal of any sort at a championship event, there is a financial reward and the likelihood of a job.
"If they won a gold here it would set them up for the next five years."
The men's pair of Dinesh Kumar and Prince Kumar Mahto beat New Zealand on Tuesday and both women's teams are going well. Altogether they won five of six games on Tuesday.
Gale has plans for enlarging the pool of players, and rates a medal as a possibility.