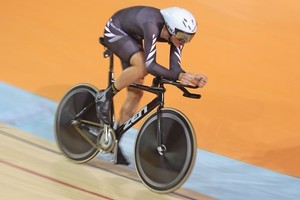 A decent carbon frame can cost upwards of $10,000, throw in another few thousand on componentry and you get a sense that professional cycling is a world away from the days when you took the Healing 10-speed for a spin.
Cycling is balanced on the cutting edge of technology.
It's perhaps surprising then to learn that New Zealand track coach Tim Carswell has a homespun way of communicating to his riders on the track.
Pursuiter Jesse Sergent lifted the lid on how he finds out where he is on the track in relation to his opponent.
Asked whether he looked up at the scoreboards at each end of the velodrome, Sergent said he didn't have to. "You never look around, never look across the track, never look at the scoreboards. Tim Carswell walks a line on the track.
"One side of the line is up, one is down. Every step he takes is .1 of a second."
At one stage during Tuesday's individual pursuit final, Carswell was 17 steps backwards of the line, representing the 1.7s Sergent fell behind Aussie star Jack Bobridge.
By the final lap, he had moved to within five steps, but Sergent could not quite pull it back.
He will get his chance for revenge in the team pursuit final today.