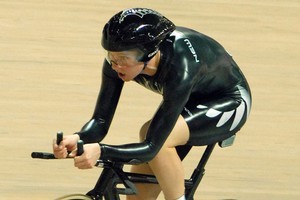 NEW DELHI - Lauren Ellis claimed a gutsy silver medal in the women's points race and keirin rider Simon van Velthooven a controversial bronze as New Zealand doubled their Commonwealth Games track cycling medal haul today.
The pair join individual pursuit silver medallist Jesse Sergent and 1km time trial bronze medallist Eddie Dawkins on the first day as New Zealand podium-climbers at the Indira Ghandhi Sports Complex velodrome.
Ellis was in hot contention for gold entering the 10th and final sprint but couldn't match the legs of Australian winner Megan Dunn, who crossed the line first to extend her points total to 45.
Ellis, who registered 40 points, needed to win the final sprint to guarantee gold and found herself in a good spot on Dunn's shoulder heading into the final turn. However, she couldn't push on.
She at least had the satisfaction of demoting Canadian Tara Whitten to third place with 36 points.
It was Whitten who won gold at this year's world championships in Copenhagen, with Ashburton 21-year-old Ellis settling for a close-run silver.
She said there were mixed emotions at not going one place better.
"I'm so proud to get the silver medal but you always go out wanting to win the race," she said, reflecting on a final lap that so nearly went her way.
"I had Megan's wheel but I lost it. I put in so much energy just to get myself in that position. I gave it a go but it just didn't pay off.
"There's a good calibre of riders there. With the world champion there, I stuck with her because I knew she would be wanting to go for the break and that paid off."
Following a dramatic keirin final, Palmerston North rider van Velthooven appeared resigned to fourth place but punched the air with joy when he was promoted one place minutes later.
Track officials ruled that Malaysian Azizulhasni Awang had illegally used his head on the New Zealander midway through the final lap, so disqualified him.
World championship silver medallist Awang had crossed the line first so the whole field was promoted, with compatriot Josiah Ng claiming gold and England's David Daniell silver.
After a motorcycle paced the field through the first 5-1/2 laps, van Velthooven found himself in an ideal spot early in the 2-1/2 lap free-for-all that followed, sitting on the shoulder of Daniell.
It stayed that way until the final bend when van Velthooven was passed on either side by the Malaysian pair.
Earlier in the session he finished second in his heat and first in his second-round race.
Based on the lucrative Japanese professional circuit, the 21-year-old from Palmerston North is establishing a reputation in the event, placing ninth at this year's world championships.
Earlier the points race turned into a tight three-way battle between the medallists from about the one-third stage of the race.
They were involved in five-woman break - including England's Katie Colclough and Northern Ireland's Heather Wilson - which lapped the field and earned each a 20-point bonus.
Ellis' experienced teammates Joanne Kiesanowski and Rushlee Buchanan spent the rest of the race trying to set her up for sprints and she won three of them, the same number as Dunn.
"They're equally deserving of the credit, they were looking out for me the whole race," Ellis said of the pair.
"They were amazing in the race, I could not have done it without them."
However, Dunn was a constant presence and continued Australia's dream start to the Games programme at the Indira Ghandi Sports Complex.
She relished the joust with Ellis.
"We challenged each other in the last couple of sprints prior to the end and she was too strong, I couldn't come round her," she said.
"I knew it was who wanted it more and I wanted it so badly."
Kiesanowski finished sixth with 14 points and Buchanan seventh with nine.
New Zealand trio Shane Archbold, Peter Latham and Aaron Gate were to also line up in the men's 40km points race to contest the other gold medal up for grabs today.
- NZPA