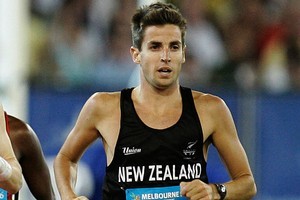 New Zealand 5000m runner Adrian Blincoe is headed into the unknown tonight, with work to repair the Commonwealth Games track at Jawaharlal Nehru Stadium still taking place hours before his race.
Blue riband Games sport athletics start this evening, hours after Commonwealth Games officials put the finishing touches on a battered in field and a track damaged by monsoon rains then in the opening ceremony.
"We are aware of the reports," a New Zealand team spokeswoman said.
A head technical official had advised the team the track was fit for competition.
"The whole thing is up and going. Our athletes will go to the track tonight as scheduled."
Commonwealth Games Federation president Michael Fennell told journalists at his daily press conference there had been problems but they were solved overnight.
An International Amateur Athletics Federation (IAAF) technical specialist had examined the repairs today, and passed the venue "in good shape" for competition, he said.
"Unfortunately when you have an opening ceremony on the same site as athletics, there is damage done to the facilities," he said.
Protective measures were taken, but there had still been damage to the track.
Work on the middle lanes of the back straight was still being done this morning, hours before the track was to be pressed into action by elite athletes.
Athletics tracks have a synthetic surface, over a solid base, so there were fears the late repairs might cause the surface to lift, if it was not given time to bed in.
Journalists asked organising committee chairman Suresh Kalmadi why there had been delays starting the repair work.
Repairs had started "the moment" the opening ceremony ended on Sunday and over 1000 people had worked on the track, Kalmadi said.
"Things are all in place, the track is ok, and the grass has been laid in the centre, so you will not find any problems for the athletes," he said.
Former Olympic triple jump champion Jonathan Edwards has expressed his concerns to the BBC.
"There is a feeling that there are a lot of people working here but no real sense of urgency. They're relaying part of the track which I think was damaged during the opening ceremony," he told the BBC.
- NZPA