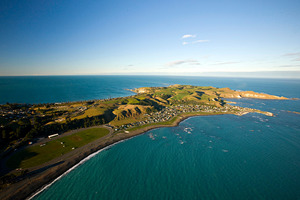 A $30 million plan has been drawn up to develop Kaikoura's fishing wharf area into a hotel, restaurant, conference and retail precinct.
The proposal includes 84 fully furnished hotel rooms, 32 privately owned units and 108 backpackers' beds.
Kaikoura Wharf Developments, the sole director and shareholder of which is George Collier, is looking for developer and investor interest for the almost 1ha site, and has resource consent, wharf leases, concept plans and designs, which include the existing Pier Hotel and fishing wharf.
Dunedin businessman Mike Coburn, spokesman for Kaikoura Wharf Developments, said Collier was looking for investment partners.
He said that with additional tourism operations the entire project could cost up to $35 million.
"It's been several years in the making, gaining a lease to the wharf and getting the resource consents in place," Coburn said yesterday.
While "ideally" the project could be undertaken in its entirety, it could also be "staged", with revenue coming from each completed section, he said.
The commercial project manager for Kaikoura Wharf Developments, Stuart Chadwick, said - referring to the 84 hotel rooms with uninterrupted sea views - that 62 were incorporated in the core building while 22 were extended along the wharf's first floor.
Below at ground level would be an array of retail space, including bars, restaurants and a fish market.
"If you think of Fleur's at Moeraki ... or Sydney's Darling Harbour, then you will understand the concept," Chadwick said.
Kaikoura township, 2km away, had 850,000-plus visitors a year, he said. Only 350,000 of those visitors stayed overnight.
- Otago Daily Times