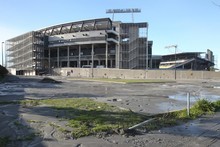 Interest from potential investors is fuelling hopes the taxpayer may soon be off the hook for the $337 million the Government estimates insurer AMI will need to meet claims from the Canterbury earthquakes.
AMI yesterday reported a $705 million net loss for the year to June, and chairman Kerry Nolan said the cost of claims from the quakes - over and above the company's reinsurance - was likely to be about $531 million, which was in line with earlier estimates.
AMI, New Zealand's second-largest general insurer, said in April it might not be able to meet the cost of claims from the Christchurch quakes and Finance Minister Bill English announced a "policyholder support package" for the company that secured an initial $500 million in taxpayer funding if required but which he acknowledged could blow out to more than $1 billion.
Mr English yesterday said the ultimate cost to the taxpayer would depend on the final cost of AMI's claims, which remained uncertain, and the outcome of AMI's recapitalisation process, which was in progress.
"However, based on the $705 million annual loss reported by AMI today, the best current estimate of the likely cost of the Government's support package is $337 million."
Mr English told the Herald the Crown had not yet paid any money to AMI and did not expect to for another year or two.
Meanwhile, Mr Nolan suggested Crown support might not be needed.
"AMI believes the prospects of recapitalising the company and strengthening its balance sheet, by attracting a new investor, are positive."
The company had established a board committee to oversee its capital restructuring by attracting a new investor and had appointed investment bank Goldman Sachs as advisers to help raise that new capital.
"Several potential investors have already made approaches and the board looks forward to a successful outcome. A process will be adopted which ensures that AMI's ongoing business is ring-fenced from its earthquake liabilities."
Mr Nolan said new investors would be insulated from further liabilities from the Christchurch quakes, but any deal would be done in such a way that the cash contributed would flow through to help meet claims from the quakes.
That money would offset cash that might otherwise be provided by the Government under its guarantee.
Market sources told the Herald New Zealand insurance company Tower remained interested in purchasing a stake in AMI, which reported gross premium income of $362 million in the year to June.
While Mr English said it was possible the taxpayer would not end up paying any money to AMI, he also gave a caution.
"Where the taxpayer ends up will depend on two uncertainties, one being any potential sale value and the other being the actual claims that are paid out and at the moment we're speculating on both. We've learned not to underestimate the costs in Canterbury."
By Adam Bennett

Email

Adam