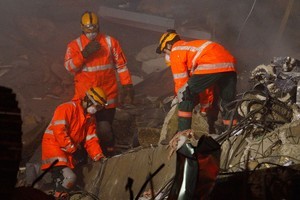 The destruction and death toll of Tuesday's 6.3 magnitude earthquake in Christchurch has many people wondering what they can do to help.
For those in Christchurch, Mayor Bob Parker asks those who are able to help those in their community, in particular elderly and disabled people.
He says people should check in on their neighbours and help supply them with water and food.
While offers from volunteers are appreciated, Mr Parker says people should stay out of the central city.
The Royal College of General Practitioners has been asked by the Ministry of Health to establish the national emergency relief pool for general practice and community pharmacy in Canterbury.
General practitioners, practice nurses, practice managers, community pharmacists and pharmacy technicians who are available to assist in Christchurch at short notice should register here.
Social Development minister Paula Bennett said there had many offers of assistance from across the country.
"Growers from around the country are offering fresh food donations, church groups are donating goods to those in need and Food and Grocery Council members are also working to get donated food to the people of Christchurch," she said.
All offers of help can be emailed to earthquakehelp@msd.govt.nz, which is a central co-ordination point.
Hands-on help
Once again the University of Canterbury Students Association is inviting people to join the student volunteer army.
Volunteers should arrive at the UCSA car park on Ilam Road between 9am and 10am and bring shovels, wheelbarrows, gloves, raincoats, sunblock, drink bottles. Find out more about theStudentVolunteerArmy on Facebook.
The Auckland University Students Association is looking to get volunteers during the university's Orientation next week to help gather donations to go to the aid of victims of the earthquake. More information here.
Accommodation can be offered to those displaced - see here for more information.
People in Wellington who can offer accommodation to displaced Cantabrians can register by calling 04 801 4205 or emailing CD.Welfare@wcc.govt.nz with details. Those in Auckland who can offer a bed can call 0800 AUCKLAND to register.
Habitat for Humanity is appealing to Cantabrians who can offer accommodation to their fellow Cantabs to place listings on www.shelter.org.nz.
The Swim for Christchurch tomorrow at Milford Beach in Auckland will be raising money for the Canterbury Earthquake appeal. People should sign up for the 1km Ocean Swim at 7.30am with the swim beginning at 8am. You must bring and wear your own swim cap. Cash donations only.
Prime Minister John Key said the best way people from around New Zealand and the world can help is to make cash donations to help the city and its residents get back on their feet.
Donations
Mr Key has launched the Christchurch Earthquake Appeal, a global fundraiser for the recovery effort in the city and the Canterbury region.
Donations can be made either at www.christchurchearthquakeappeal.govt.nz, Telecom, Vodafone and 2 Degrees mobile customers can text "chch" to 933 to make an automatic $3 donation, or donations can also be made via internet banking, or at any branch of New Zealand's retail banks, by depositing into account number 03-0251-0039807-00.
A Mayoral fund has also been set up for donations to the citizens of Christchurch using the following BNZ bank account: 02-0800-0849758-000

Donations can be made to the Red Cross online or via the GrabOne website orfundraiseonline.co.nz, as the Red Cross site has been crashing.
Donations can be made to the Salvation Army by calling 0800 53 00 00 (specify that your donation is for the 'Canterbury Earthquake Appeal') or at:
• Any ANZ Bank branch: Account number 01-1839-0188939-00
• Any National Bank branch: Account number 06-0869-0548507-00
• Any Westpac Bank branch: Account number 03-0207-0617331-00
• Any ASB Bank branch: Account number 12-3205-0146808-00
• Any BNZ Bank branch: Account number 02-0500-0982004-000
• Any Kiwibank branch: Account number: 38-9009-0759479-00

Donations can be made to the Rotary New Zealand World Community Service here.
Donations can be made to the Caritas Aotearoa New Zealand website, by calling 0800 22 10 22, or by post: Caritas, PO Box 12193, Thorndon, Wellington, 6144. Mark correspondence: "Canterbury Earthquake Appeal".
Telecom mobile users can donate to the Red Alert Canterbury Earthquake Appeal by texting to 4419 to make an automatic $3 donation to the appeal.
Vodafone users can donate to the Red Alert Canterbury Earthquake Appeal by texting "Quake" to 333 to make a $3 donation to the Red Cross Canterbury Earthquake Appeal.
Across the Tasman, the Commonwealth Bank of Australia is also accepting donations for the New Zealand Red Cross.
Britons can donate to the New Zealand Red Cross online here.
Alternatively UK Vodafone customers can give £5 by texting "NZQUAKE" to 70801. UK Vodafone will donate an extra £1 for each text.
BP Oil NZ will be matching dollar for dollar all donations made to victims of the Christchurch earthquake at its Wild Bean Cafes and BP Connect stores.
Corded phones
With power out to much of Christchurch Telecom is collecting corded phones to distribute to those who need them. The phones can be dropped in to any Telecom store during retail opening hours.
Pets and animals
The Christchurch SPCA has opened a Pet Emergency Earthquake Fund. You can donate money here or to the Westpac account 030802 0586429 00.
Paw Justice is sending food shipments to pets in Christchurch affected by the earthquake. Text "FOOD" to 4662 to donate $3.
Scam warning
The Ministry of Consumer Affairs is warning people about an email scam, which uses Christchurch's earthquake as an opportunity to prey on the good will of New Zealanders.
Ministry watchdog Scamwatch said it had already received reports of emails sent from 'James McCoy', who claims to be from 'Donate4Charity NZ'.
It suggests the recipient can be the New Zealand manager of the bogus charity in return for a 10 percent cut.
The ministry said giveaway signs of an email scam include a generic email address, poor grammar and spelling, and an offer of a cut for accepting money.
- NZ HERALD STAFF / NZPA