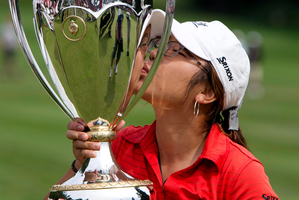 Words fail, or certainly struggle, in trying to adequately hail the achievements of Lydia Ko, the wonder kid from North Harbour who is turning the golf world on its ear.
Her stunning assault on the record books is unique to the point of baffling. You can only shake the head, blink the eyes, scratch the chin, and wonder what this will lead to. Yes, many prodigies have failed in the senior ranks, but in this case, we may be in the presence of a world sports phenomenon.
One place not to start is the overrated, overblown Halberg sportsperson of the year awards. So skipping ahead, what should we love about Lydia Ko?
For starters, she seems to have a warm and open personality, with a good sense of humour and handle on life. Her coach Guy Wilson also comes across really well.
Wilson appears caring, grounded, interested, interesting and full of the joys of Lydia and golf.
He delights in saying he is living a coach's dream. Enjoy the ride man.
Lydia Ko has risen to virtually every challenge put in front of her, and those challenges including history-making ones against older, professional opponents. For a 15-year-old her results are staggering.
I also love that she is of Korean origins. Lydia is an Asian Kiwi girl who New Zealand will embrace. This might be another step in helping us get over fears and prejudices.
Auckland has become a cosmopolitan city - a far cry from the boring mono-cultural place of my childhood - but there is a simmering discontent associated with the change.
I bumped into an old mate in K Rd this week, and we headed to one of his favourite haunts, an Asian eatery where he scooped out great lumps of chicken and pork from an enormous soup bowl, all for eight bucks.
He's a well-travelled bloke with a business that takes him around the world. He loves being able to chow down on food prepared by authentic Asian cooks in this city. We chatted briefly about the new Auckland, battled a language barrier with the waitress, and felt good about it all.
A lot of people still struggle with the changing face of our society and fear what is called the Asian invasion (the irony being they are probably the same people who scoff when Maori seek redress and understanding for the effects of a cynical and duplicitous European invasion).
The so-called Asian invasion, and immigration in general, is fabulous to my mind. Among the spin-offs is the food hall revolution, which has revived the concept of community meeting places. Immigration has gone some way to bringing the city alive. So what if Auckland becomes almost unrecognisable from the past? Bring it on.
I worked in an Auckland primary school recently where there is only a small percentage of what you might describe as old school New Zealand kids. There are I believe 22 nationalities represented at this school. It was an amazing and invigorating experience to be among the students and their parents, and those kids - like all kids - are an absolute delight.
Back to Lydia, who works extremely hard. A lot of people work extremely hard so while respecting and marvelling at her work ethic, I wouldn't over-emphasise that.
Some people are built to work hard, and some people aren't. We get beaten over the head with the importance of the work ethic, a concept that deserves challenging debate rather than blind obedience.
When it comes to sport, the trick is to know how to work hard. Lydia Ko and co. have worked out how to make those extreme practice hours count. That is a difficult art mastered by very few.
On to the Halbergs, unfortunately.
I've read and heard opinions Ko should beat the Olympic contenders in the awards and was tempted to write this myself, as a device to somehow put her achievements into perspective, before remembering that I don't rate the Halbergs as a worthy exercise.
Why even try to compare the vastly different worlds of Ko and Valerie Adams, just because their notable achievements happened to occur in the same year. The Halberg awards and all the nonsense around them have become cringe inducing and naff. This futile comparison game is demeaning and the significance of a teenager's success will be partially lost in a very silly argument.
Halls of Fame are a better concept and way more interesting - American sport has got it right on that score.
Is inbreeding now harming Canterbury and Crusaders' rugby? The New Zealand rugby heavyweights built a powerhouse by looking inwards for coaches and their offsiders. Crusaders boss Todd Blackadder and provincial coaches Tabai Matson and Scott Robertson continue that tradition. But the mighty red and black machine is looking a little pallid. It may be time to put more colour in the cheeks by getting fresh perspectives from outside their own backyard.
Fine print doesn't always match headlines. World Cup winning ex-Wallaby coach Bob Dwyer supposedly labelled attacks on boss Robbie Deans as unfair. And yet, in another story, he advised Deans to throw out all his ideas and start from scratch again. This sounded like an attack on Deans. I have also read a story inferring the Warriors halfback Shaun Johnson might be open to a switch to rugby, and another that he is not.
Prediction: Test cricket is in the death throes in many parts of its small world, including New Zealand. It will thrive in places like the Ashes series, but become a ghetto elsewhere. New Zealand's latest low-profile defeat in India is just another part of that process. We will become a Twenty20 nation, and first-class cricket will be a stepping-stone for that.