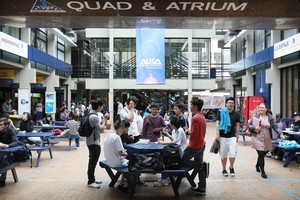 If education is our future, Chinese minds will be prominent in shaping New Zealand's destiny.
The second generation of the Chinese migration wave which began in the 1990s is emerging top of the class from our education system and beginning to make its mark.
Armed with high-level tertiary degrees, their skills and hard work ethic make them valued recruits in business or research. Their outlook seems brighter than the experience of the older generation, who struggled against language barriers and prejudice to find jobs matching their skills and qualifications.
Auckland University is recruiting Chinese postgraduate students locally and overseas, confident they will help boost New Zealand's research capability and Auckland's place in the export education pecking order.
The university believes some will stay on, help to commercialise research in their field and build networks between the two countries.
From a roll of 41,000, Auckland University has 14,600 Asian students (35 per cent), including several thousand on student visas. It cannot give a further breakdown, but Chinese are thought to outnumber Pacific Islanders (3210) and Maori (2769) combined.
Engineering, business, music and medicine/pharmacy attract most Chinese students, number-crunching by the Chinese Alumni Club shows. But the Chinese presence becomes even more pronounced at postgraduate level.
Last year, more than half of Master of Commerce graduates, 40 per cent of Master of Music graduates and 30 per cent of Master of Engineering graduates were of Chinese background. In 2009, 38 per cent of honours graduates in commerce were Chinese.
Alumni Club heads Rachel Yang and Jack Shan say many business graduates go on to work for the major accounting firms, commercial and investment banks and consulting firms.
Some return to China, and others set up businesses, reflecting the entrepreneurial nature of Chinese students.
Professor Ross McCormick, associate dean for postgraduate studies in health sciences, says the medical school has many Chinese students who do very well. Most were born in New Zealand or are long-term residents.
Many who arrive as international medical students stay on to become GPs, hospital registrars and specialists; 45 per cent of international medical graduates from Asian countries are still working here nine years after registration, Medical Council surveys show - a much higher proportion than for most other nationalities.
But the proportion of doctors who are Chinese has stayed at between 5 and 6 per cent for five years to 2009.
Perhaps a third of undergraduate pharmacy students at Auckland are Chinese, says school of pharmacy head Professor John Shaw. He believes the potential to start a business makes pharmacy attractive to many Chinese who do well at sciences at school.
The pharmacy school has an agreement with the Chinese Pharmaceutical University in Nanjing for collaborative research and student and staff exchanges.
The university hopes to attract more Chinese graduates for master's and doctorate studies and has an agreement with the Chinese Scholarship Council.
"We're never going to get the number of research students we need domestically," says pro vice-chancellor (international) Chris Tremewan.
Chinese PhD students are highly productive and contribute significantly to research with commercial potential, Dr Tremewan says.
"It's given us a capability that we desperately need in terms of in-depth research culture, especially in biomedical sciences and engineering."
Language schools are also helping to change New Zealand - 47 per cent of Chinese who arrive on student visas stay on to work and 23 per cent become permanent residents.
But it is primary and secondary schools which are the breeding ground for Chinese educational success.
Chinese names have long been prominent at primary and secondary school awards ceremonies, standing out in the "logic" subjects - the sciences, maths, IT and accountancy - but being well-rounded enough to be school dux.
Though NZQA results are not broken down ethnically beyond the "Asian" category, it's clear that Chinese candidates are proportionally over-represented at scholarship level, where they outperform other ethnicities in calculus, chemistry, physics, biology, accounting and statistics, many achieving outstanding results.
Chinese students are more likely than European, Maori and Pacific Island students to continue secondary schooling to finish Year 13 - again, the ethnic breakdown is imprecise but 95 per cent of Asian students stay at school until at least 17, compared with 8 per cent of Pacific Islanders, 83 per cent of Europeans and 66 per cent of Maori.
But Chinese are unevenly distributed around the city's schools - a pattern sometimes at odds with where they live. A version of white flight (the 1990s phenomenon which followed the lifting of school zones) is apparent in Education Review Office statistics.
In many low-decile areas where Maori and Pacific students dominate, Chinese numbers are disproportionately small.
Chinese pupils are significantly concentrated in higher-decile secondary schools such as Auckland Grammar (18 per cent Chinese roll), Epsom Girls (18 per cent), Pakuranga College (17 per cent) and Macleans College (25 per cent) and at primary schools which feed into them, such as Newmarket (25 per cent), Epsom Normal (31 per cent) and Pigeon Mountain (32 per cent).
Macleans has gained enormously from its large Chinese population, says principal Byron Bentley.
They are hardworking and highly competitive in the classroom, he says, yet very involved in other things such as music, sport and Duke of Edinburgh Award activities.
He confirms it is routine for Chinese students to get high-90s grades in maths and sciences but some also shine in the arts, including Englishliterature.
"Most of them are very well-adjusted and very mature and their great work ethic rubs off on other students," says Bentley. "Their time management is quite astonishing. They are definitely career-focused but they'll look at anything."
He agrees New Zealand stands to gain from this combination of talent and motivation, particularly as communication is not an issue for students who have grown up here.
The school has ESOL classes to help recent migrants and two Chinese staff help with communication difficulties. Students can learn Mandarin and scholarship Chinese classes are held before school.
But the Macleans experience is shared by other few Auckland schools. At most of them, Chinese are just part of the melting pot that Auckland is becoming - schools where half a dozen ethnicities mingle and the biggest group may total only a third of the roll.
And outside Auckland, the Chinese migration wave may still be barely a ripple.
Number of Chinese in NZ schools (Years 1-13)
19,082 (2.5 per cent)
Number of Chinese in Auckland schools
13,245 (5.1 per cent)
2009:
35.2 per cent
of Asians passed NCEA level 3 with merit or excellence, compared with 27.6 per cent of Europeans.
2006:
27 per cent
of Chinese migrants had a bachelor-or-higher degree compared with 14.2 per cent for the whole population.