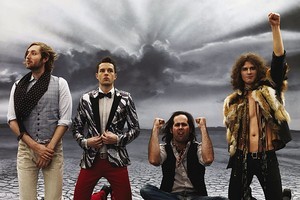 Here's another dose of all our favourite things from all over the web today, including more Black Keys goodness, music videos from David Dallas and The Killers and a selection of clothes you don't want to be seen dead in this Christmas.
Enjoy. And if you think you can do better, don't forget to post your own links below.
1. The Killers record a Christmas song and accompanying video every year, but they've never done a festive Western before. Check out their clip for The Cowboy's Christmas Ball and play it over and over while you decorate your Christmas tree with Jersey Shore ornaments. (YouTube)
2. The Black Keys continue their El Camino TV talk show blitz with a cracking Gold on the Ceiling on The Late Show with David Letterman.
It's probably their best one yet. (Pitchfork)
3. David Dallas is a busy lad. As well as recording five new tracks for his deluxe reissue of his excellent album The Rose Tint and running several Pop Up stores to promote it around New Zealand, the Kiwi rapper has made a new video for Feel Like Oasis.(The Source)
4. Swedish hit-making indie-popsters Miike Snow are back with a brand new single, the club-friendly synth-tastic Devil's Work. Guess they've stopped writing songs for Britney then. (Pretty Much Amazing)
5. They combine the old school hip-hop beats of the Beastie Boys with the guitar crunch of Anthrax and cheerleader chants. And they've back with a second album called Reign of Terror that's supposedly "emotionally really heavy". That riff in the album trailer sounds mean. (NME)
6. Rap fiends rejoice with this list of the year's 40 best hip-hop albums. I only have six of them, and I feel ashamed. (Stereogum)
7. A grandma, coordinated knife-weilding dancers and some pretty awful outfits combine in the new video for Major Lazer's Original Don. Recent New Zealand visitor Diplo is in there somewhere too. (Pitchfork)
8. Here's the trailer for Liam Neeson's new snowbound film The Grey. Guess he was lying about taking up stand-up comedy then. (Flicks.co.nz)
9. Here are the 20 best new bands of 2011, according to Paste Magazine. If Rubblebucket aren't in your life yet, what have you been doing with yourself? (Paste)
10. No matter how festive you're feeling this Christmas, no one should ever have to put up with you wearing one of these monstrosities. So don't. Burn them in your fireplace and roast marshmallows over the embers.
- Herald online