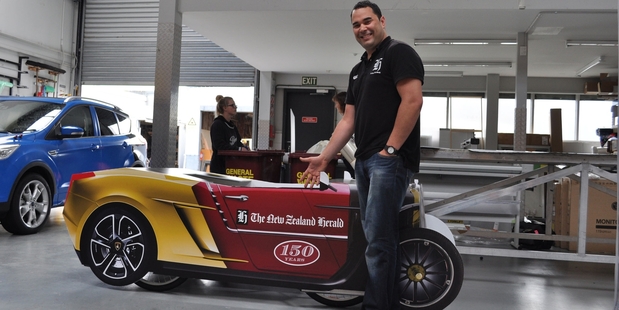 "We think a crash is likely - we're going to be hitting those speed jumps at some pace," says the NZH150 trolley team captain Todd Fuller.
Forty teams of designers, mechanics and racers will line up for tomorrow's Red Bull Trolley Grand Prix.
The downhill race negotiates a winding 650m course through the Auckland Domain, featuring eight corners, five new speed jumps, a wall ride and a speed tunnel.
Each competing team will perform a 30-second skit with their trolley. They will be judged on creativity, speed and showmanship. The winner will receive $10,000.
One team with a big reputation at stake is NZH150 including two employees from the New Zealand Herald to celebrate the newspaper's 150th birthday.
"The design represents 150 at the Herald. The front is a Model T Ford design, the middle a 1957 Cadillac and the back a modern-day Lamborghini," Fuller said.