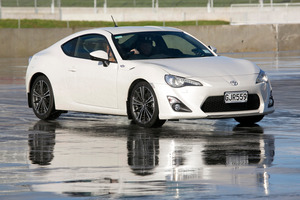 Toyota may have racing heritage but in New Zealand it's been better known for reliable if uninspiring everyday runabouts. This sexy 86 coupe could rejuvenate that image.
What's new
There are facts aplenty on the internet, so we'll keep it brief. Developed with Subaru, the 86 is a brand new, lightweight sports coupe fitted with a normally aspirated, horizontally opposed 147kW/205Nm 2.0-litre engine that's mounted low in the frame and well back, to achieve a 53-47 front-rear weight balance.
There's a six-speed manual that needs just a flick of the wrist to operate or a six-speed auto, a Torsen limited slip diff to assist throttle-happy corner exits and a MacPherson strut front and double wishbone rear suspension that's performance-oriented, yet not so firm it's unmanageable during everyday driving.
The company line
To develop back-to-basics driving fun in which power to weight and excellent balance values handling nirvana over outright power.
To re-inject sexy sportiness into a safe-and-sensible brand at an affordable price, the entry car pitched at $41,986 and the GT at $47,986 with TRD packs to polish track-day appeal.
What we say
Just driving it out of town tells you this car is something special. Rev it and it howls and jerks at the leash; it steers on a dime, swivels round corners, and delivers the seat-of-the-pants feel of an old-time sports car.
Yet it does that while providing modern safety levels (seven airbags, ABS brakes, ESP you can de-select for the track), modern comforts (heated leather seats in some variants) and a tractable nature that means this club-day racer will also tackle the daily commute.
On the road
Our rainy Rotorua to Hampton Downs drive proved how well this car deals to highways and byways, its lively handling prompting a vigorous approach to corners and confidence when driving conditions deteriorate.
But the track delivered a revelation. A few laps of coaching with four-time Australian rally champion and V8 supercar driver Neil Bates cut my lap time by three seconds to 1.30.2, just 1.4 seconds off his own time.
He cites an event at which the 86 lost drag and dyno wars to supercharged Walkinshaw Commodores but beat them on the track. When asked for the one thing that makes this car stand out Bates says, "It'd be the steering. It feels like it's got a race car rack in it, it's very quick ratio steering and the steering weight and feel is just perfect. Electric power steering has come a long way."
Apart from that? "Balance, that's why we took you drifting as it shows how well-balanced the car is. You can do anything with it, and control it, which comes from such a low centre of gravity and such great front to rear balance."
Why you'll buy one
This is an eighty-grand car at forty grand; the most four-wheeled fun for your dollar - so good that Bates has bought one. "They're an amazing car, not the world's most powerful but all about fun."
Why you won't?
You regularly carry rear-seat passengers, always drive sedately and associate sport with chips and the couch.