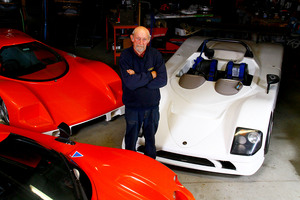 This weekend, around 30 sports cars will thunder around one of Europe's greatest racing circuits, Zandvoort in North Holland, in the second round of the Saker Sportscar Challenge 2012.
Later, at Assen in the eastern Netherlands, and then at prestigious Brands Hatch in Kent dozens of drivers put the aerodynamic vehicles through their paces at speeds of up to 265km/h.
The cars were designed and built by Kiwi designer Bruce Turnbull in his workshop in the Manawatu township of Feilding. But a dispute with the multi-millionaire owners of the European trademark has resulted in Turnbull being airbrushed from the car's history.
He hasn't seen a cent in royalties for years and the Dutch owners market the Saker as a feat of Dutch engineering.
After several years of trying to fight for his share, Turnbull, at 64, is resigned to the fact that his life's work may be lost.
It's a tough admission for a man who has spent so long toiling in workshops that grease is deep in the cracks of his hands.
But, sitting in his office, surrounded by pictures of his beloved Saker competing at tracks from Australia to Asia and the United States, he admits he's "getting too long in the tooth" to chase the matter any further.
"I always believed that if it's something you want to do just do it - because there are too many people that don't."
Motor racing - more than any other sport - has always been the domain of the privileged. From Chris Amon to Ayrton Senna, the top racing drivers through the ages have enjoyed the support of wealthy family backgrounds and generous sponsors.
Not everyone had it so lucky. For Turnbull, it was only ever about designing the perfect race car. The glamour, big business, and slick salesmanship didn't matter.
"You have to be pretty determined and to hell with the consequences."
Turnbull designed his first racing vehicle way back in the 1950s - a pram he stripped to hurtle down hills. Later, he developed a knack for recon-ditioning old wrecks on a shoestring budget. He won his first NZ sportscar driving championships in the early 1980s.
Both pursuits taught him different elements of car design. During months and years hidden away in his workshop, Turnbull learnt basic physics and geometry, which he combined with a driver's intuition to construct his own car.
The result was a lightweight, highly manoeuvrable racing car. A gull-winged design with minimal drag that made the car much quicker than comparable high-performance BMWs and Lamborghinis. It was quick - a Subaru turbo engine propelled it from 0 to 96km/h in just four seconds. It was also stylish: the two-seater's doors opened outwards, so it looked like a bird of prey in flight. Nearly a quarter of a century later, the design has barely changed.
But Turnbull still had to come up with a decent name. After hours of brainstorming, he settled on Saker, a Middle Eastern carnivore.
"The falcon and the hawk and the eagle had all been used with success," he says. "We looked into all kinds of fleet-footed animals just to find a name that had a nice ring to it and a bit of aggression about it."
The first Saker, a GT, was built in 1988 in Turnbull's garage in Feilding. He looked at getting government grants - but found the form-filling bureaucracy stifling. Instead he chose to pursue it on his own, registering trademarks in New Zealand and Australia.
The Saker was an instant hit on the track - cleaning up against Ferraris and Lamborghinis in its early competitive outings. It set a fastest lap record at Pukekohe, and competed in the Wellington Street Race in 1993.
The Saker was never a pure racing car. Turnbull wanted to create an affordable and practical car that was roadworthy, so it could be driven to the track, raced and then driven home.
A few motor-racing enthusiasts bought the basic $40,000 chassis and a body which required assembly and business hummed along nicely. Orders trickled in from the United States and Australia until 2000, when Saker attracted the interest of Dutchman Robert Visser.
Visser, who came with the backing of the Dutch National Racing Team, saw the Saker as filling a gap in the European market, where there was no natural stepping stone to the expensive Le Mans-style endurance events.
A typical Le Mans car would cost upwards of $1 million - whereas the Saker could be delivered for as little as $70,000.
They signed an agreement and Visser became the owner of Saker's European trademark. He paid Turnbull €2000 for every car sold - a modest sum but one Turnbull was happy to accept with sales projections of over 100 a year.
Turnbull thought he had a watertight agreement with Visser, and besides, he couldn't afford the tens of thousands of dollars it would cost annually to maintain the copyright in Europe. The cars were to be manufactured in China and exported to the Netherlands, and then right across Europe. Turnbull was paid for 35 cars over the first few years.
Then, in 2005, problems set in. Visser's company hit trouble and he sold his business to brothers Laurens and Gerrit Meyer - whose business interests include real estate and bars. The new owners realised that the copyright arrangement didn't provide for the possibility of Visser's unfortunate demise.
The Meyer brothers, both keen motor-racing drivers, poured money into the business, building a new workshop in the southern town of Etten-Leur where Sakers chassis line the walls of the well-appointed showrooms.
The website for their company, Meyer Beheer, which has more than 2000 employees, says its "active acquisition policy" has helped it become a leading hospitality organisation.
But they said they didn't owe Turnbull money, instead offering him partly made Saker cars from the factory in China as payment. Turnbull had no use for the partly built cars. The Saker Sportscar website doesn't mention Turnbull; it describes Saker as a Dutch motor racing team.
The last correspondence he received, in March 2010, left him in no doubt about the Meyers' position.
The writer said he could not understand how Turnbull would think they ought to pay him anything, since he had made no investment in the business; they had invested millions but they were still losing money at what they saw as a hobby.
The correspondent asked whether Turnbull wanted to invest millions too, so that Saker could become a worldwide success.
According to the Saker importer in the UK, Paul Rose, the Meyer brothers see it as a hobby.
"They saved the business. They are only involved because they love racing the car," he says. "I do feel for Bruce but I don't think the Meyers are being as hard as he thinks. They took up this business only to save the car and they are not making money. I think we all want the same thing, for the cars to be successful.
"We all acknowledge that Bruce designed and built the first cars. I think if the economy hadn't gone tits up in 2008, you would have a lot of Sakers in the UK now, but unfortunately that's not the case."
Turnbull was seeking under $100,000 in royalties, but has no way of verifying how many Sakers have been sold. The Meyers claim to have sold 50 a year for much of the past decade.
Turnbull looked into hiring intellectual property lawyers but to hire one in Europe was prohibitively expensive. He was given less than a 50-50 chance of winning. He spoke to the Dutch consulate in Auckland, to Trade and Enterprise NZ, and held out hope that a compromise could be reached. Turnbull later discovered that the Meyers had trademarked everything from video games and tablecloths to tea towels and socks in the Saker name.
Turnbull says he only ever wanted enough money to allow him to continue to develop the car.
"What I'm asking is a very small amount. Originally that was to be income to ensure that I could keep up with development. To ensure I could keep up to the changes in design and technology. Nothing remains stationary."
But in motor racing, as in much of business, wealth can simply outlast expertise.
In the meantime, Turnbull has returned to work at an engineering plant in Palmerston North. He's still "chuffed" that his design has found success on the world stage.
And despite some bitterness, he accepts that he's simply the latest in a long line of inventors to be taken advantage of.
"There are so many ideas that are started here, then taken over by someone else, either officially or unofficially because the inventors don't have the capital to put them into production."
That the Sakers are safe is a point of pride for Turnbull. No one has ever sustained a serious injury in many thousands of hours of racing. YouTube footage can be found of a dramatic five car pile-up in last October's Saker World Final in the Netherlands - yet all the drivers walked away unhurt.
Turnbull is also part of the team that created the Hulme Supercar, a high performance mid-engined road car, keeping alive a Kiwi tradition of being at the forefront of motor racing that stretches back to former Formula 1 drivers Bruce McLaren and Chris Amon.
New Zealand's once-flourishing car manufacturing industry has long been teetering on the brink of extinction. And according to Turnbull, there is no support in place for budding designers, who receive barely any recognition.
He says the unwavering support of his wife Jane was the only reason he was able to devote such long hours to the project.
Baldwins Intellectual Property partner Kate Duckworth said the two biggest pitfalls for would-be inventors were disclosure and getting the agreement right. You have to make sure that when you tell investors about your idea, that the trademarks are secure. Also, the agreement has to be watertight so that all potential outcomes are catered for.
"If they are backyard inventors, they often don't have access to the right advice. Often the way to go is to get a partner on board who can help with funding."
Inventors can approach NZ Trade and Enterprise, or regional economic offices. The new Super Ministry headed by Steven Joyce is designed to make it easier for Kiwis with exportable ideas to get them to market.
"It's a bit like insurance," Duckworth says. "You don't have to have it but when something goes wrong, you wish you had."
Turnbull says if he had to he would do it all over again.
"My biggest regret is learning that you can't trust people."