Danielle Wright and family take a tour bus to Cape Reinga and find themselves the main attraction.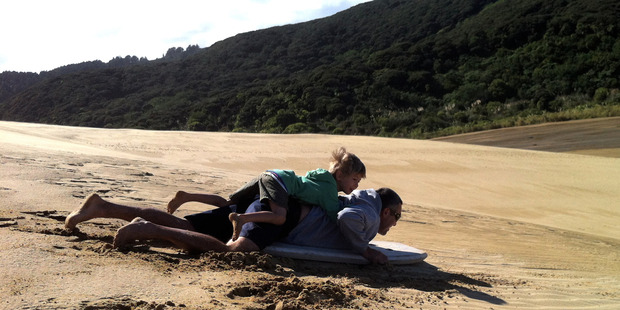 Turning into Ninety Mile Beach we're immediately confronted by a red Holden V8 hooning past on the sandy highway. Wild horses play in grass behind the sand dunes and seagulls fly high to drop pipis for their breakfast. No one is sunbathing and no one is splashing in the waves.
Even though there are no crowds on the beach, the sheer length of the super-sized shoreline is enough to hold the promise of excitement and its history points to great adventures here. Such as Sir Charles Kingsford Smith's 1928 transtasman flight to Sydney, the first - it took 14 hours and 25 minutes.
Until the 1980s, the endless stretch of golden sand was also used for droving - especially cattle - from the 40,000-acre Te Paki station near North Cape. The sight of horseman Ken Lewis herding thousands of cattle down the beach against the crashing waves must have been something to see.
There are also fishing competitions with lucrative cash prizes and shipwrecks to explore.
At one time, a new world land speed record was set here by Norman Wizard Smith, and in the 1920s, annual car races were held.
We've driven here from Paihia, via Kerikeri orchards and a stop at the Ancient Kauri Kingdom for morning tea, where our fellow bus travellers huddled around a table stuffed with souvenirs taking pictures of things we take for granted, on cameras with enormous lenses.
"It's great they find our country so interesting," I tell my husband, as we walk past the souvenirs, noticing only the huge kauri tree carved in the middle as a staircase to the art gallery upstairs.
A pile of logs out the front becomes a jungle gym for our children as they run along its sides, sit on a carved dolphin and run their hands along engraved leaves. The logs are reclaimed from underground and are now used to make furniture.
Back on the bus, we pass a patch of mist and the bus leans to one side as half the passengers rush across to capture the Kodak moment.
When cows are spotted on the opposite side, it leans back as the stampede for prime position continues.
Our driver, Huey, takes us to a spot where we can dig for pipis on the beach. I notice one of the tourists taking a picture of us from the side.
We smile politely, unfortunately indicating we're fair game as a rush of snappers crowd around us, clicking away.
"Wait. Look at the beautiful beach, see what Huey's doing - wow,
pipis!" I say to them, while my husband lifts our daughter over his back, hanging from her legs.
Bad move.
Pretty much the whole group is laughing and taking pictures of us now.
From that point on, we spend most of the stops being chased around (and often under) the bus, trying to escape. We feel like cuddly pandas on display in a zoo.
At the Te Paki quicksand stream we make a break from the rest and rush up the sand dunes with boogie boards, using our feet (and in my case, also my hands) to slow us down on the long dune descent.
Next, it's Cape Reinga and the famous lighthouse. Huey sings a song to lost loved ones as we arrive and talks about the spirituality of the region and the significance to Maori of the lonely pohutakawa tree marking a spirit's journey to ancient Hawaiiki.
After his build-up, I expect to see families huddled together, weeping for their loved ones, but I don't see any mourners, just lots of tourists.
There's a long winding walk to the lighthouse and, in parts, it's remarkably quiet, considering the noisy sea below.
"You can see the two seas meeting - the Tasman and Pacific (sometimes known as the man and the woman to Maori)," says one English chap, but I don't see anything dramatic in the rain, just lots of white caps on the waves.
In the carpark, Wayne Petera is selling native trees and for $20 our children are able to plant a pohutakawa in memory of my grandfather, who passed away not long ago. He was a keen gardener and would have liked the gesture.
We're given a certificate with the GPS co-ordinate so we can check up on our tree and see how well it is growing before we visit it again. If we are worried, we can email Wayne and ask how it's doing and he'll take a picture collage to send back to us.
On the bus ride back to Paihia we stop at Houhora Game Fishing Club for lunch and the Puketi kauri forest. As we arrive back in Paihia, Huey sings us a Maori farewell song in a soft, low croon.
It's been a long day - 11 hours from start to finish - yet the bus trip was surprisingly easy with small children, who loved to hold their Dad's hand - usually on the driver's wheel - and fall asleep in his lap - something I'm sure they will remember almost as much as the sights.
TRAVELLERS' TIPS
Cruisin' the Bays: Winter is a great time to do the pilgrimage to Cape Reinga. Dolphin Cruises offers a Ninety Mile Beach and Cape Reinga day-trip from Paihia.
Where to stay: The Waterfront Suites, The Heritage Boutique Collection, 100 Marsden Rd, Paihia. Phone: 09 402 5665.
I always have a great stay at any Heritage property. The manager was friendly and helpful, the facilities that little bit nicer than you have at home and the view spectacular. You can walk everywhere you need to within a few minutes.
Family-friendly food: We ate at Shippey's - fresh fish and chips, on a ship! The staff were amazing with our over-tired children who rushed around wanting to be ship's captain. Shippeys is permanently parked on the beach next to the Waitangi Bridge, Te Kemara Ave, Paihia. Phone: 09 402 7757.
Danielle Wright travelled as a guest of Destination Northland.