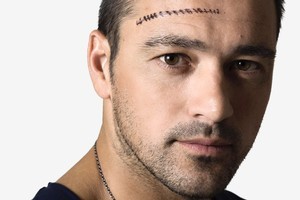 As a surfer, Chris Sisarich used to "fry" his body in the sun for hours and never worry about skin cancer.
But his attitude changed overnight in 2009, when his brother Mark was diagnosed with the deadly disease, which kills 300 Kiwis a year.
Now Sisarich, a photographer, wears a hat, sunblock and often a long-sleeved shirt in the sun. And this week, he is one the faces of a campaign to raise awareness of skin cancer.
He joins other celebrities, including socialite Amber Peebles and dancer Hayley Holt, the former girlfriend of All Black captain Richie McCaw, in wearing scar tattoos to get New Zealanders thinking about the disease.
Sisarich says he'd spend hours on the beach trying to get a tan when he was younger, but when cancer touched his family it made the threat very real.
His 46-year-old builder brother "spent his entire life outside with his shirt off. He found a spot on his back - it was a big melanoma which they cut out."
Cancer survivor Julie Meagher , of Auckland, has lost four friends to melanoma. "I don't think people realise how deadly it is," she says. "Once it spreads to your organs you will die."
Support the Melanoma Foundation by buying a tattoo scar for $2.