For Fisher & Paykel Healthcare chief executive Lewis Gradon, the old adage is true - "if it ain't broke, don't fix it".
Gradon stepped into former boss Mike Daniell's shoes in April last year, and as far as everyday business is concerned, not a lot changed.
The 56-year-old occupies the same seat Daniell did in the corner of the East Tamaki open-plan office, surrounded by 50 or so staff. He operates by the same values, and - like his predecessor - is keen to avoid the spotlight.
In fact, if Gradon had his way, his name wouldn't be in the news at all.
"Yes, there is always a CEO, but the success of this company has very little to do with me," Gradon says.
"Part of the whole teamwork environment here is you don't really have the rockstars and you don't say 'me' or 'I' - the whole personal profile thing just kind of doesn't fit with the company."
He may clam up when asked about his personal life, but Gradon's sense of humour is obvious. He is quick to laugh, often at himself, and easily jumps from cracking a joke to an in-depth discussion about the mechanics behind a new piece of technology.
His day-to-day life hasn't changed much either. Formerly the senior vice-president of products and technology, Gradon has been on the executive management team for 20 years, and with the company for almost as long as Daniell - 32 years compared with Daniell's 37.
In 1983, having finished a Bachelor of Science degree in physics from the University of Auckland, Gradon joined the company as a product engineer.
Since then he has held various engineering roles and oversaw development of the company's healthcare range.
"People ask me all the time, 'what's it like, what's been the challenge and how was it moving into the CEO role', and I don't know how to answer any of them, because for me it was a really small transition," Gradon says.
"Not a heck of a lot that I noticed at all in my day-to-day life and part of that is because of the way we worked in the first place. Mike leaving was more like, one person in the team left as opposed to the boss leaving."
He may prefer to pass on the personal questions, but the head of one of New Zealand's largest listed companies is happy to chat about the success of the business and the work it is doing.
From its original prototype humidifier - made from an Agee preserving jar - Fisher & Paykel Healthcare has gone on to be a leader in the business of respiratory technology, as well as a consistent outperformer on the NZX, with a market capitalisation of $5.5 billion.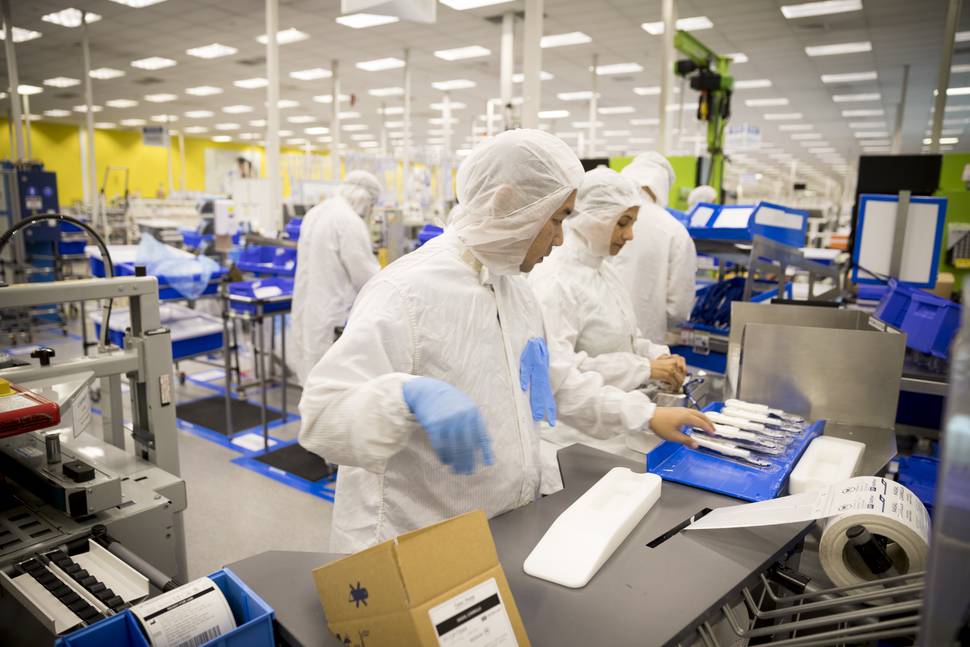 Since splitting from appliance company Fisher & Paykel in 2001, the business has focused on its core range of products in the respiratory sector. Its two main areas are care in hospitals, and at home.
Under Daniell's leadership, the business diversified from its traditional tube ventilation market into the obstructive sleep apnoea market, then into face mask ventilation, oxygen therapy and surgery.
The company now sells more than $800 million worth of products a year and is on track to achieve more than $1b in operating revenue in the next two years. Daniell laid out the roadmap and Gradon says he has no plans to take a different route.
"We're on a track and we've been on that for 20 or 30 years so it's just continuous improvement from here," he says.
"Of course there's change, but no great change of direction - it's still just a steady evolution."
Craigs Investment Partners head of private wealth research, Mark Lister, says Gradon has continued the strong management of the company since taking up the reins.
"They're both very competent leaders and from what I know of Lewis he's stepped into [Daniell's] shoes and filled the gap very well," Lister says.
"Mike left it in pretty good shape and my understanding is he had a pretty good support team around him, which Lewis was a part of, and that's all good stuff to see from an investor's point of view."
As Lister sees it, F&P Healthcare has "always been one of the best quality businesses in New Zealand", and one with significant global exposure.
The company has consistently beaten market expectations; its most recent annual net profit was up 27 per cent over the previuous year, to $78.2m.
Gradon says that with the business doubling operating revenue every five or six years, coping with expansion was one of the main challenges.
If it sounds as though the company is following all the rules of success, F&P Healthcare is also bucking one of the big trends in business. "Agility", "nimble" and "disruption" are all the rage these days, but F&P's business model is based on planning years in advance.
As Gradon puts it, a product designed today might be seen in the market five or six years from now, and might not earn reasonable revenue for eight or nine years.
For most businesses, this would seem extremely risky, but with more than 80 per cent of the company's revenue coming from recurring sales, it is easier to plan ahead, Gradon says.
One of the only clouds on the horizon is a potential tax on exports from the company's Mexico plant, which supplies the US.
If President Donald Trump's Administration taxes Mexican exports as threatened, F&P Healthcare may consider switching factories, exporting to the US from New Zealand to avoid being taxed. Gradon, however, does not seem too concerned.
"A tax is never going to be helpful or positive for business, but we would expect a relatively minor impact because of our ability to supply the United States from either site," he says.
North America is the company's main export market, delivering 47 per cent of revenue, with Europe making up 31 per cent and Asia Pacific 18 per cent.
Increased spending on healthcare and an ageing population have helped the business grow; research shows that about 60 per cent of an individual's lifetime healthcare spending occurs after the age of 65.
Gradon says about 10 million people used the company's products in the past year, and he expects that to increase to about 30 million in the next 10 to 15 years.
When he's not at work, Gradon says he is a typical Kiwi guy, who likes to fish, golf and hang out with his wife, two kids and their dog.
So far, it looks as though F&P Healthcare has chosen a chief executive out of the same mould as its previous leader - not that Gradon would like to be singled out for comparison.
Video will play in
Play now
Don't auto play
Never auto play