Lauren Callender, is the owner of The Aviary, a retail homewares store in Gisborne and online shop.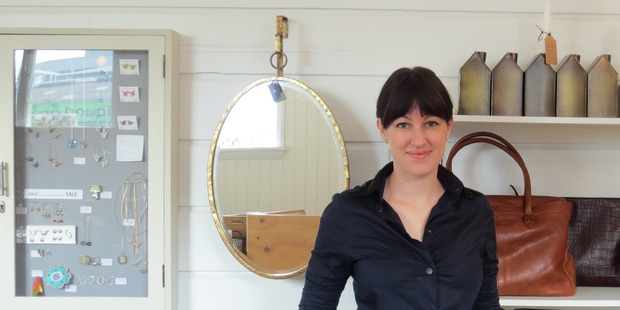 You share a retail space with three others who are also going it alone in business? How did that come about?
I started The Aviary just over three years ago. It started off really, really small in a room within a clothing store. I was there for two years but then the lease ran out so Julie Puddick - a dress maker who was also working within that store - and I went looking for a new shop. But even with the two of us we knew the overheads would be too high for us to manage and we would each have to work six days a week - or employ someone, or only open five days a week, which weren't options.
So we joined forces with two other self-employed women - a ceramicist and a jeweller - who already had a shop, expanded the space and re-invented. We're located inside the historic Poverty Bay Club which also has a café, boutique cinema and other retail spaces so it was a really great move. The women we joined forces with shared a similar aesthetic and are equally enthusiastic about design so we were confident we would work well together.
How does it work on a practical level?
We split the rent equally between the four of us, regardless of the space used as some of us work more than others - it all seems to work out in the end. We also have a roster system, with two of us working full time and two part time. It's very rare that we need to bring in another person to work, which is great, especially as we're open six days a week and seven days over Christmas.
We have regular informal meetings about how the store is going and try to talk about any concerns we might have to keep everyone happy, because I think these arrangements only work well as long as people communicate, and are willing to compromise. We keep a staff calendar that any appointments or holidays are recorded on so everyone knows well in advance when they're working. We also occasionally have 'outings'; going out for a glass of wine or dinner gets us out of the shop and 'work mode', and that makes business easier to discuss.

As a solo operator in your business what are some of the other advantages of this kind of arrangement?
It allows me to work five days a week, even though the business runs for six. I feel confident that when I'm not in the shop it's being well taken care of, because the people working there have a vested interest in the store and know the stock, customers and procedures really well.
Even though I'm in my business alone, I have three other people to bounce ideas off. We're all quite different, so I get a range of opinions on things, and it helps keep me motivated. We all have different strengths that we bring to the store, which creates a fun atmosphere. It's great to be doing a mundane task like updating spreadsheets while next to you someone is creating a ceramic light shade!
I think my online store has also benefited from this arrangement, because I can add a pair handmade earrings or a ceramic sculpture created by another of the businesses here and be confident that no one else has the same. It gives the online store an extra point of difference.
And, of course, there are really small overheads, which definitely helps in the quiet months of winter!

What are some of the challenges?
We're all at different stages in our personal and professional lives, so our priorities vary quite a bit. We realised this during our first Christmas season working together; some of us were on holiday with family because this was a priority while some of us wanted to spend as much time in the shop as possible to make the most of the busy season.
It's times like that when you have to remember we're all running different businesses and you can't always worry about what the other people are or aren't doing and just focus on your own business. Luckily everyone is really good at compromising and, at the end of the day, we want the store to run as smoothly as possible and for everyone to love coming to work.

What are some of the other highs and lows you've encountered while going it alone?
One of the things I've struggled with is not having four weeks off each year like everyone else! When I'm desperate for a break I'll ask one of the others to work for me so I can have a three-day weekend, which is often all I need to feel refreshed and switch off a bit.

But one of the things I love about 'going it alone' is the variation from day to day. I can be ordering and unpacking new stock, uploading new products to the website, advertising, even doing the accounts and vacuuming. The days fly by and I'm never watching the clock. I do find it hard sometimes, though, to stick to one task so needless to say I always have a 'to do' list on the go.
Coming up in Small Business: What are the main considerations if you're looking at taking on staff for the first time? How do you go about figuring out what kind of person you need, where do you find them, and what's the right selection process? If you've got a good story to tell about how to build a team, get in touch: nzhsmallbusiness@gmail.com