Home improvements help biggest chain stores boost their revenue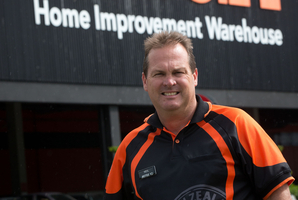 New Zealand's biggest DIY, hardware, gardening and trade store chain Mitre 10 will soon announce it has cracked the $1 billion revenue mark, well ahead of nearest rival Bunnings' $813 million.
Neil Cowie, Mitre 10 chief executive, said the 83-store national co-operative would announce $1.04 billion revenue for the June 2014 year in October or November, up on last year's $900 million-plus revenue which earned store owner-operators $52.3 million in distributions, 14.5 per cent ahead of 2012.
Jacqui Coombes, general manager of the 50-store Wesfarmers-owned Bunnings featured in TV3's The Block, said the $813 million operating revenue was 15 per cent ahead of the 2013 result and a "milestone", achieved in consumer and commercial areas and across all merchandising categories.
New Zealanders are spending more in these stores, buying more items and looking for more how-to information, resulting in a digital and hands-on information splurge.
Mitre 10's Easy As online campaign aims to help people learn everything from how to install a home storage system to tending lavender, while Bunnings' D.I.Y. Advice campaign runs the gauntlet from lawns to kitchen planning tips.
Cowie said the 2014 revenue lift would result in bigger distributions to the owner-operators who in June gathered with suppliers in Los Angeles to get inspiration from Shep Hyken, Amaze Every Customer Every Time author, amusement from Kiwi actor Rhys Darby and talk about strategy, direction and challenges. Mitre 10 chiefs meet in Wellington for their AGM in a few weeks.
PlaceMakers, ITM and Carters are all gaining from rising residential construction, more additions and alterations, population growth, the Canterbury rebuild and rising consumer spending.
Coombes said Bunnings' earnings grew at 9.4 per cent, in line with earnings growth across the overall group. Bunnings was enjoying good momentum, with new stores at Silverdale and Takanini representing a $51 million investment. A further $86 million will be spent developing new warehouse stores in New Lynn and Arch Hill and two further trade centres would be developed in the June 2015 year, she said.
Coombes made no mention of strong local opposition to Arch Hill, which she referred to as Grey Lynn. Independent planning commissioners allowed a big new outlet on Great North Rd, although Environment Court mediation is understood to be almost complete and might result in some changes to what is allowed, particularly around traffic and truck movements into and out of the store.
Cowie didn't hold back.
"It's pretty bitter and we would have approached it differently. We would have engaged with the community differently.
"We want appropriate locations that ensure they're adding to the community," he said.
Mitre 10 celebrated its 40th birthday this year and Cowie said although people drew comparisons with Bunnings the two businesses were almost polar opposites, with Mitre 10 a New Zealand-owned co-operative and Bunnings an Australia-owned corporate.
Coombes indicated Bunnings viewed New Zealand as attractive on the expansion and price front.
"There remains significant opportunity for growth in this market and we look forward to bringing the Bunnings lowest price, widest range, best service offer to more people throughout the country," she said.
Cowie said new mega stores opened lately in New Lynn, Porirua and Taupo. A new Mitre 10 Mega is rising at Westgate, consent has been granted in Queenstown and two others are planned elsewhere in New Zealand.
Cowie complained of being unable to buy some Australian-made goods stocked by Bunnings.
"We don't have access to the range of Australian suppliers we would like," he said.
However, his chain had exclusive arrangements for products including some Black+Decker power tools, DeWalt hand tools and American Standard bathroom ware.