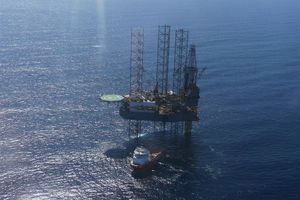 Energy Minister Simon Bridges is defending hundreds of thousands of taxpayers' money spent every year on oil and gas promotion, including bringing executives from 10 oil companies to New Zealand for the 2011 Rugby World Cup.
Mr Bridges portrayed the promotional spending - about $200,000 a year - as an investment, with the eventual revenue from royalties and taxes going towards public infrastructure, including schools and hospitals.
An article published in the Wall Street Journal this week revealed that the Government hired Oklahoma oil industry man Kevin Rolens, who invited the executives to New Zealand during the RWC as Government guests.
Mr. Rolens told the Wall Street Journal that the executives went sailing, tasted fine wine, and listened to an oil consultant talk about New Zealand's regulations for oil exploration.
Mr Bridges was not the minister in 2011 and said he did not know the names of all the oil companies, what activities they did, or how much money was spent on them.
"Certainly it would have been [Norwegian company] Statoil and [Australian company] Woodside, which subsequently invested in acreage here and are exploring.
"I don't think it's unusual for Government departments to invest in promotional activity.
"We did want to see the RWC 2011 - obviously a fantastic showpiece for New Zealand - used to encourage business opportunities in New Zealand."
He called the promotional money budget "very modest".
"The proof is in the pudding. Here in the last couple of years we've had $1.3 billion in 2012, and $1.5 billion last year, spent on exploration, which will yield dividends for New Zealand."
He said although this investment did not see job creation from oil and gas production, there were other benefits.
"You're still talking about hotels in Dunedin being full, in Taranaki rental car companies selling out, that sort of thing ... You need that exploration to attract the royalties, and the taxes - about $800m a year - which flows through significantly into the schools, hospitals, roads and so on."
Mr Bridges did not know whether the bill for the oil executives included their flights, or a corporate box to watch RWC games.
"We've gone from around $100,000 being spent on promotional activity to around $200,000 per annum."
Most of the promotional budget went towards sending officials overseas to promote New Zealand as an oil and gas destination, he said.
The Ministry of Business, Innovation and Employment was expected to respond to specific questions around the RWC visit later today.
- APNZ