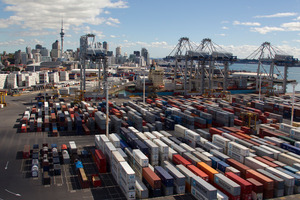 Exports exceeded imports by $534 million last month, pushing the annual trade surplus to $1.2 billion, its largest since July 2011.
But economists expect the improving trend in the annual trade balance to reverse when the sustained decline in dairy prices in Fonterra's fortnightly auctions over the past three months is reflected in the value of shipments crossing the wharves.
April is usually a surplus month and the latest surplus, equal to 12 per cent of exports, was in line with the average 13 per cent of exports over the previous five April months.
Exports at $4.5 billion were up $553 million or 14 per cent on April last year, despite a 2.8 per cent rise in the exchange rate over the year.
The lion's share (58 per cent) of the increase was in dairy products, but exports of forest products, fruit and crude oil were also well up on April last year.
Imports at $4 billion were up $192 million or 5 per cent on a year ago.
Most of the rise is explained by a $116 million (18 per cent) increase in imports of capital goods (including transport equipment), while imports of consumer goods rose just $26 million or 3 per cent.
Westpac economist Michael Gordon said imports of plant and machinery had continued to grow strongly - up 14 per cent on a year ago - supporting the view firms are increasingly engaging in productivity-enhancing capital investment.
On a seasonally adjusted basis dairy exports fell more by volume than by value last month compared with March, implying around a 3 per cent rise in export dairy prices.
But ASB economist Nathan Penny said with dairy auction prices down about 23 per cent since February and given the three-month lag between them and trade data, that was likely to be the last price rise for a while.
Offsetting that, he expects dairy export volumes to rebound on the back of a strong end to the dairy production season.
"Our forecast for nationwide dairy production is for a 10 per cent increase compared to last season," he said. "In other sectors, particularly meat, the export price story is stronger which should cushion the overall export price fall to a degree. For example, lamb export prices are around 20 per cent higher than this time last year, and we expect this trend to continue over the rest of the year."
Deutsche Bank chief economist Darren Gibbs expects the 12-month running trade surplus to continue to rise over the next three months and to narrow the current account deficit to about 2.5 per cent of gross domestic product from the 3.4 per cent recorded in December 2013.
"[But] from later this year," he said, "we would expect to see the deficit expand gradually as the trade data begins to reflect the lower dairy prices that have been seen in February and as import volumes continue to expand."

See the latest trade stats here: