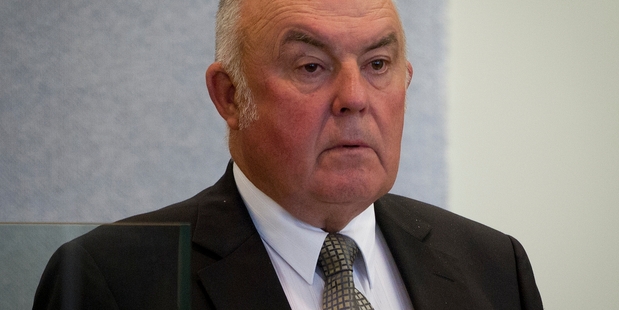 A former North Island mayor and lawyer who did work for Belgrave Finance could now be jailed after intentionally facilitating crime by providing legal assistance.
Hugh Edward Staples Hamilton was accused of 17 charges of theft by a person in a special relationship as well as 11 charges of false statement by a promoter, and 11 Companies Act charges of making a false statement to a trustee.
Releasing his verdicts this morning, Justice John Faire found Hamilton guilty on 14 charges of theft by a person in a special relationship. He was found not guilty on the other charges and granted bail until sentencing on Friday July 4.
The judge ordered a home detention appendix be prepared with a probation report but made it plain he was not making a commitment today to the sentence that is to be imposed.
The theft charges Hamilton was found guilty of come with a maximum prison sentence of 7 years' in prison.
Hamilton, 62, is a former partner of DAC Legal and advised Belgrave Finance until its 2008 receivership.
The trial, which began in March, was jointly prosecuted by the Serious Fraud Office and Financial Markets Authority.
According to a SFO forensic accountant, Belgrave made around $12 million of loans to entities effectively controlled by property developer Raymond Schofield.
These loans breached Belgrave's debenture trust deed, which are the rules dictating the terms and conditions between investors and the company accepting the funds.
For the theft charges which Hamilton was found guilty of, he was accused of helping Schofield and Belgrave directors Stephen Smith and Shane Buckley with these loans and was therefore a party to their offending of theft by a person in a special relationship.
For these charges to stack up, the Crown had to prove that Hamilton helped with the breaches, was aware of the offending and intended to assist with it.
The Crown's main allegation for these charges was that Hamilton assisted by receiving a portion of the loans in question into DAC Legal's Trust account.
In his reasons for verdict, issued this morning, Justice Faire said Buckley and Smith were accustomed to act according to Schofield's wishes, which made the property developer a related-party to Belgrave and means the loans breached the company's trust deed.
Justice Faire said Hamilton assisted with the offending by carrying out instructions to execute the related-party loans.
The judge also said Hamilton had knowledge of the offending:
"I am satisfied that Mr Hamilton had knowledge that Mr Schofield, Mr Smith or Mr Buckley, through the borrowing, were causing Belgrave to be in breach of the Debenture Trust Deed. The surrounding circumstances make it entirely implausible that Mr Hamilton was not aware of the offending. On the evidence there is no doubt that at the very least, Mr Hamilton was wilfully blind to the relevant elements of the offending," he said.
"Having found that Mr Hamilton had the relevant knowledge of the offending, I am satisfied beyond reasonable doubt that he intended to assist in the offending...in light of his knowledge Mr Hamilton knew that his legal assistance was resulting in related party lending," the judge said.
"Whatever his motive, Mr Hamilton was aware of what the legal documents and trust account were being used for, and intentionally facilitated the crime by providing such legal existence".
Hamilton was also alleged to have formed a common intention with either Schofield, Smith or Buckley to prosecute a plan whereby funds would be sought from public investors to make loans to the property developer and entities associated with him.
The Crown alleged Hamilton's role was to prepare a plan and complete documents which disguised Schofield's involvement.
However, Justice Faire said he was not satisfied beyond reasonable doubt that Hamilton was involved in this manner.
Schofield was charged alongside Belgrave directors Shane Buckley and Stephen Smith in September 2011, with the SFO alleging the defendants misrepresented how investors' money would be used. The trio were also charged by the FMA for allegedly making untrue statements in offer documents.
It was alleged that, in substance, Schofield acted as a Belgrave director.
Buckley and Smith have pleaded guilty to charges they faced and been jailed, while Schofield was granted a stay on the proceedings he faced because he was suffering from terminal cancer.
Hamilton served as mayor of Central Hawke's Bay for six years.
He was Waipukurau Rotary Club president, Central Rugby and Sports Club chairman and was made a Member of the New Zealand Order of Merit in the 1997 Queen's Birthday Honours.
In May last year the New Zealand Lawyers and Conveyancers Disciplinary Tribunal ordered the former lawyer be struck off the roll of barristers and solicitors.
It followed the New Zealand Law Society bringing charges of misconduct against Hamilton.
Hamilton has not held a legal practising certificate since 2011, the same year in which he was facing bankruptcy proceedings due to an unpaid debt for the purchase of a Wellington brothel.