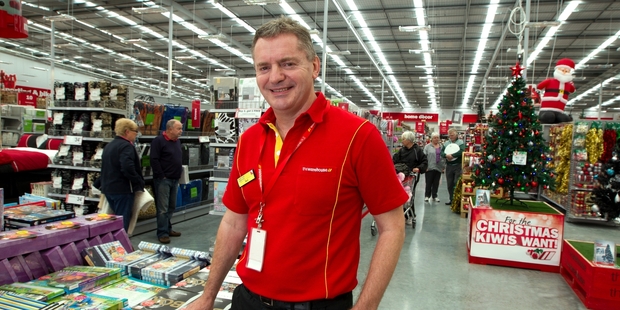 The Warehouse Group boss Mark Powell says the company's turnaround strategy is heading in the right direction but an overhaul of its core Red Sheds business still needs to deliver a bigger lift in profit.
New Zealand's largest listed retail firm is two-thirds of the way through a $180 million refurbishment programme of its The Warehouse (Red Sheds) stores.
It has also made 11 acquisitions in the last 18 months, including electronics seller Noel Leeming and its 51 per cent stake in online sports gear retailer Torpedo7.
Powell said the refurbishments and product improvements were bringing more customers into the Red Sheds and increasing sales.
"But it's not translating enough into profit yet," he said. "We still have a lot of heavy lifting to do."
The company reported a $60.6 million operating profit for the Red Sheds in the half-year to January 26, a 7.8 per cent decline on the previous corresponding period.
A mild winter and changes to product ranges, including whiteware, hit margins during the first quarter of the half.
Powell said the company was seeing good results from a recently completed rebranding of Warehouse Stationery, the division of the business he led before taking up the top role in 2011.
Noel Leeming's branding will be overhauled later this year and a rebrand is planned for outdoor equipment and apparel retailer R&R Sport, which was acquired by Torpedo7 last year.
Powell declined to comment on whether R&R, which operates nine stores across New Zealand, was going to be rebranded as Torpedo7.
He said The Warehouse's $9 million acquisition of the SchoolTex school uniform business from Postie Plus was proving a good move, as it was bringing customers into the Red Sheds who might not have shopped there for a while.
The Warehouse Group reported total sales of $1.42 billion in its half-year result, a 29.5 per cent lift on the prior period, while adjusted net profit fell 12.5 per cent to $46.2 million. The retailer completed a $115 million capital raising last week that will fund its move into financial services. Shares closed steady at $3.20 on Friday.