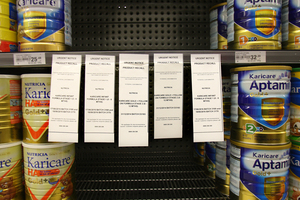 French food company Danone is suing Fonterra for alleged breaches of the Fair Trading Act in its High Court action against the dairy giant in the wake of last year's botulism scare.
Danone, the parent company of infant formula maker Nutricia, said the recall in Fonterra's botulism false alarm cost it 350 million euro and it now chasing the New Zealand company for compensation and damages.
It has filed a High Court claim, more details of which were revealed in a decision from Justice Brendan Brown this afternoon that refused the media access to documents which lay out Danone's case.
Justice Brown says Danone has pleaded four "causes of action" against Fonterra in its statement of claim.
Click here to read the full judgment.

Two of these are for breaches of the Fair Trading Act and other two are for alleged "tortious conduct", the judge said.
The most common tort claim is one for alleged negligence.
Justice Brown's decision also goes into more detail on the application Fonterra has launched to try suspend Danone's court action.
This relates to international arbitration which began in Singapore last month involving companies in the Fonterra group and Danone.
The Fonterra companies in this arbitration do not include Fonterra Co-operative Group, which is the specific defendant Danone is suing in New Zealand.
"Nevertheless the defendant has made application to this court for an order staying the current proceeding pending the final determination of arbitration proceeding," the judge said.
Justice Brown said the media's application to view the court documents could be revisited once Fonterra's bid to suspend the court claim has been determined.
Fonterra wrongly suspected in August last year that 38 tonnes of whey protein - used to make products including infant formula manufactured by Nutricia - had been contaminated with a botulism-causing bacterium. The whey protein was ultimately cleared but not before a recall of baby formula products amid fears that children could be harmed.
Nutricia had to recall 67,000 cans of its Karicare baby milk brand in New Zealand. Of the eight customers affected by Fonterra's recall, the company agreed to a commercial outcome with all of them except Danone.