New Zealand chief executives are more upbeat about revenue growth than most of their overseas counterparts, according to a survey released today.
PwC's annual Global CEO Survey picks bosses' brains on the challenges they face and the forces set to transform businesses in coming years.
The local results reveal almost 90 per cent of respondents are confident of revenue growth over the next 12 months. About 70 per cent of New Zealand chief executives are "very confident" of revenues lifting in the next year while 20 per cent are "somewhat confident". Across the Tasman, the mood is less assured, with just over a third of Australian chief executives very confident about revenue growth and 47 per cent lukewarm on it.
New Zealand CEOs are more confident about growth than their global counterparts
Q: How confident are you about your company's revenue growth prospects for the next 12 months?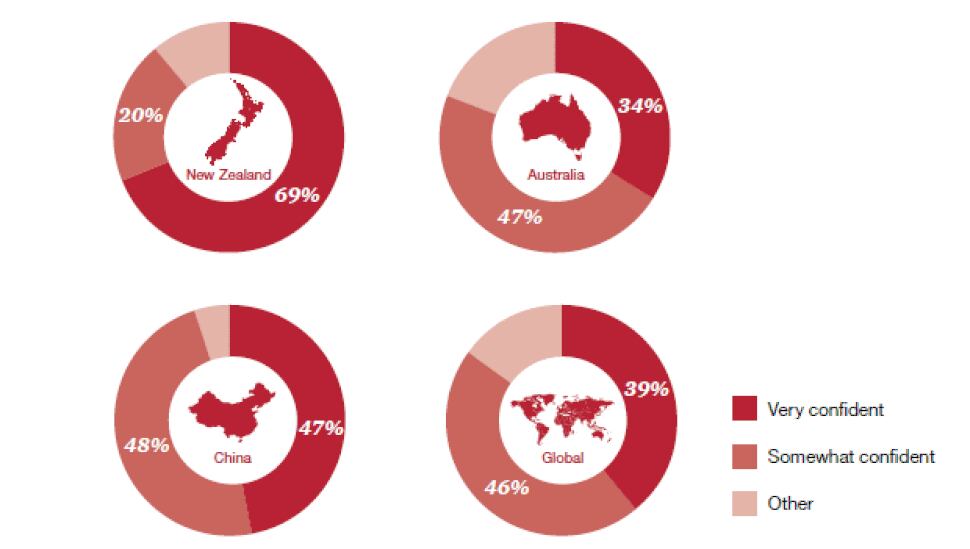 Source: All New Zealand respondents (online)
More than 40 local business leaders - including Telecom's Simon Moutter, SkyCity's Nigel Morrison and The Warehouse's Mark Powell - were involved in the PwC research.
Of almost 1350 bosses from 68 countries who responded worldwide, 39 per cent were very confident of improving revenue in the coming year and 46 per cent were somewhat confident.
While New Zealand bosses in the survey had a rosier-than-average outlook, local leaders didn't match the optimism exuded by China's chief executives, 95 per cent of whom expect revenue growth in the next 12 months.
Almost two-thirds of the New Zealand CEOs expect the world economy to improve in the coming year. Although the local mood on global growth is more upbeat than the worldwide average, sentiment across all the 1344 business leaders interviewed improved dramatically in this latest survey.
Local chief executives are also more bullish when it comes to hiring, with 54 per cent expecting to increase their company's staff in the next 12 months. This is slightly higher than the survey's average of 50 per cent.
But 80 per cent are concerned about the availability of workers with the right skills.
Almost half believe creating a skilled workforce should be a priority for the Government but less than a third think the state has done this effectively.

Working with the New Zealand Government
Q: Which areas should be the Government's priorities?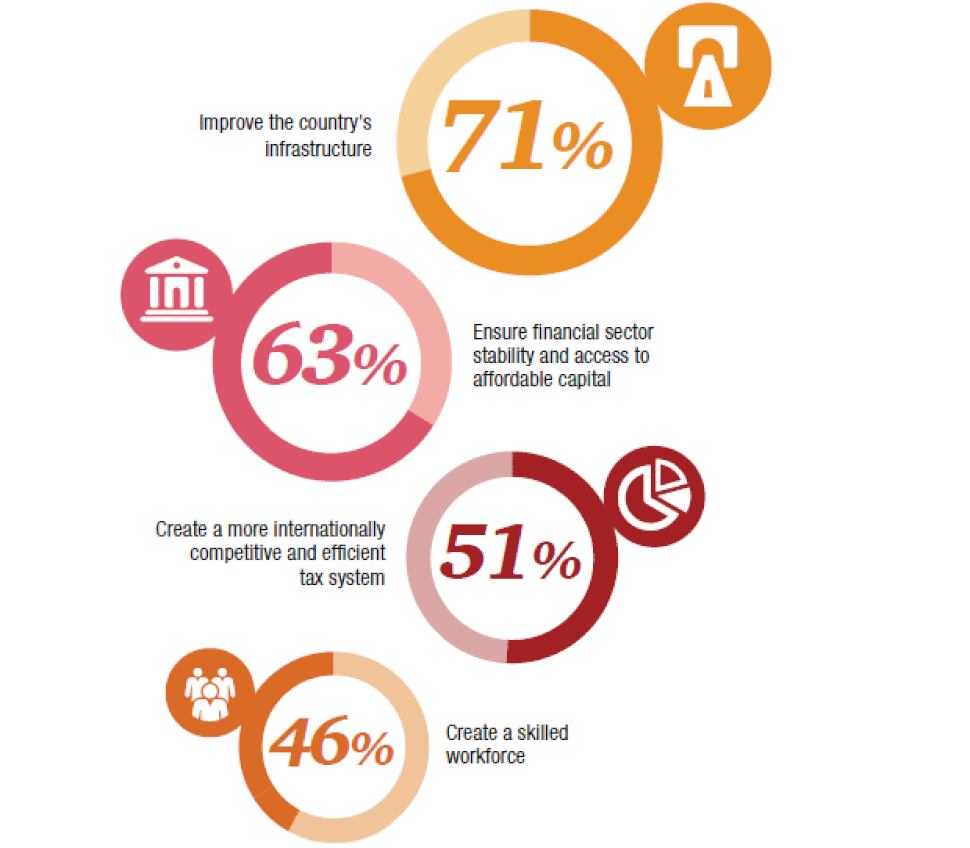 Source: All New Zealand respondents (online)
Close to three-quarters of local business leaders thought the Government should prioritise improving infrastructure.
New Zealand's bosses made the usual noises about the fear of "over-regulation" in the survey, 71 per cent seeing it as a threat to their organisation.
"I think the fundamental risks to our business are not on the demand side and they're not in the business environment, they're in the political environment," said Mighty River Power boss Doug Heffernan in his response.
More than 90 per cent of local bosses identified technological change as the force that would transform their businesses the most over the next five years.
About 75 per cent also believed demographic shifts would shape their organisations. "As the customer base gets younger, it's quite a challenge for our business because our brands appeal mostly to older people," Moutter said. "We struggle in Auckland because our brand is European-focused. The changing make-up of our communities, especially in Auckland, means we must change our brand."
The survey also says New Zealand needs to develop its "business identity" and that the commercial sector should be involved in this discussion, which is being led by the media.
"Do we want to be a global player or not? I'm not sure if in New Zealand, in a general sense, we've figured it out," said Inland Revenue CEO Naomi Ferguson.
The 'next big thing' according to global CEOs
Q: What's the next big thing that you think will impact your business, industry or society over the next 10 years?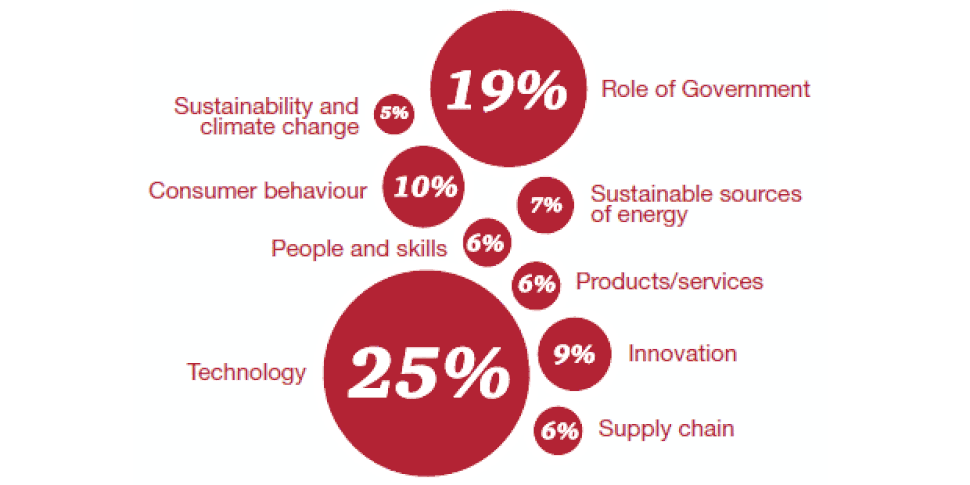 Source: All global respondents
Q: Why do you think it will do so?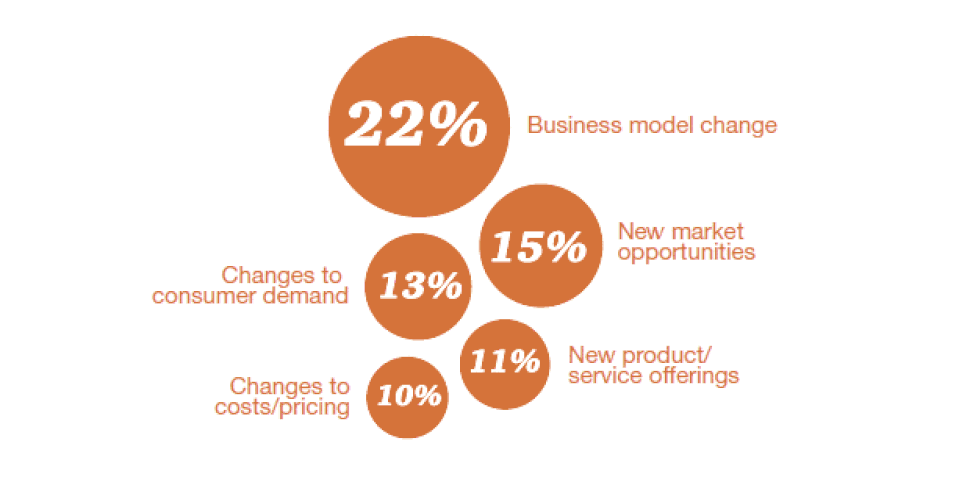 Source: All New Zealand respondents
Megatrends and the future
Q: What do New Zealand CEOs think will have the greatest impact on business over the next five years?

Source: All New Zealand (online), Australia, China and global respondents
How are New Zealand CEOs planning to restructure their business?
Q: Which, if any, of the following restructuring activities do you plan to initiate in the coming 12 months?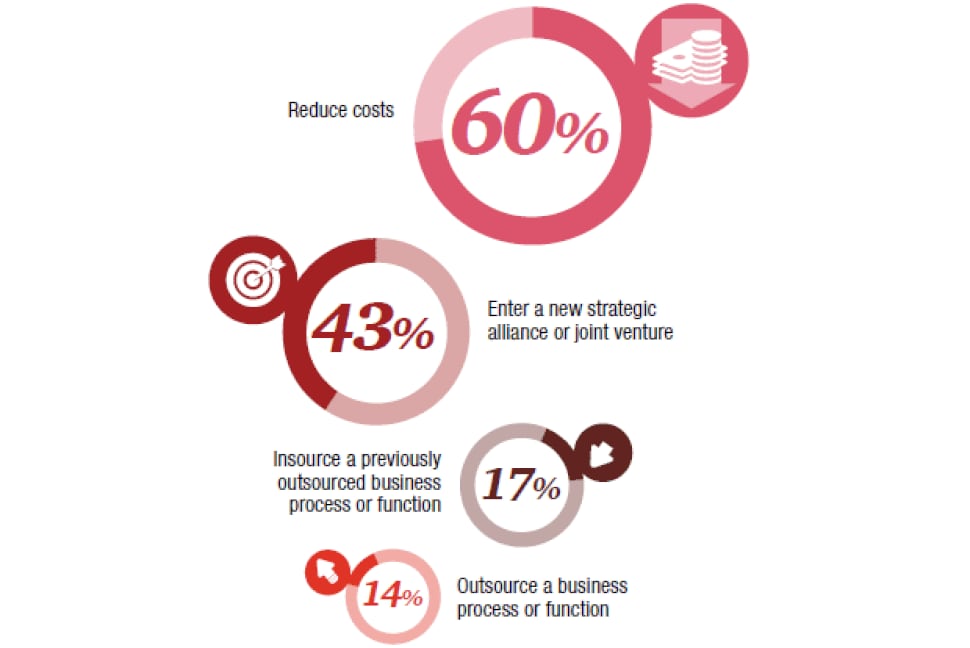 Source: All New Zealand respondents (online)
Across most business functions, New Zealand CEOs give a mixed response about how well prepared their organisations are for transformative change
Q: Thinking about the changes you are making to capitalise on transformative global trends, to what degree are the following areas of your organisation prepared to make these changes?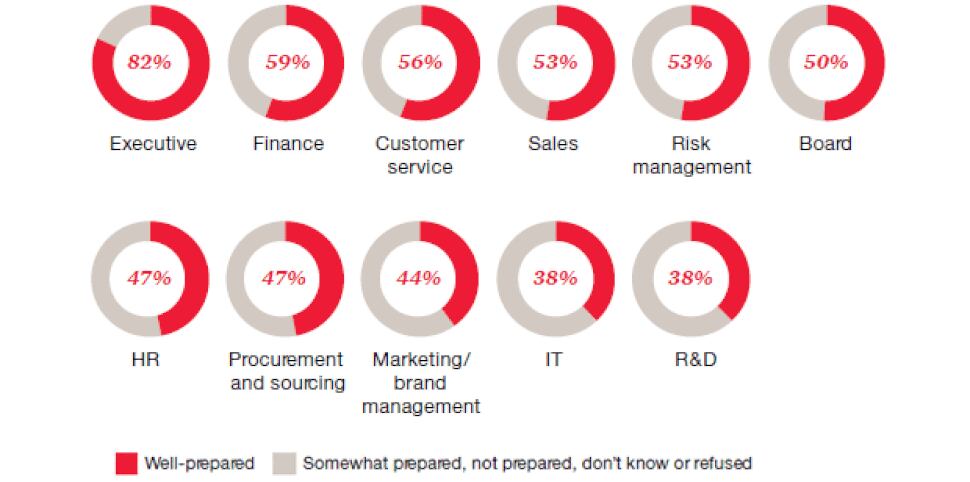 Source: New Zealand respondents who stated 'recognise need to change', 'developing strategy to change', 'concrete plans to implement change programme' or 'change programme underway or completed' to any option listed in the question 'In order to capitalise on the top-three global trends which you believe will most transform your business over the next five years, to what extent are you currently making changes, if any, in the following areas?'