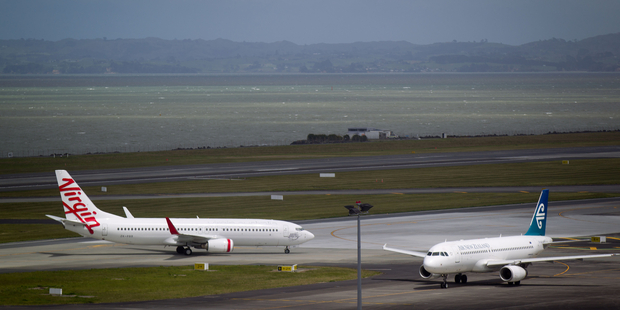 A 20 per cent dive in Virgin Australia's share price has prompted a regulatory probe and a forecast of continued big losses by the airline, whose biggest shareholder is Air New Zealand.
Virgin told the Australian stock market operator ASX yesterday it now expects losses for the half year to be close to $53 million, following a full year loss of $110 million in 2013.
Virgin's rival Qantas is also heading for big losses in half-year results to be released later this month.
Air New Zealand has around 25 per cent of Virgin, spending more than $400 million since 2011 and paying up to A48c at one time a share to retain a constant stake. Virgin shares recovered to close yesterday at A34c after falling from A35c to A28c earlier in the week.
The airline told the ASX it was not aware of any information that had not been announced to the market that could account for the slump in its share price.
It has not given earnings guidance for the period but said its result would be in line with median forecasts of brokers - a $53 million loss for the period.
Virgin said its shares had been hit by this week's broader stock market volatility, the pressure on airline stocks in particular which had resulted in Qantas shares dropping 5.1 per cent and confusion following a route cut announcement by Virgin Atlantic, a separate entity.
Air New Zealand has said previously it is "disappointed" with Virgin's financial performance but had invested for long-term aims of gaining a foothold in the large and potentially lucrative Australian domestic market without having to set up an operation there.
It was also able to streamline services across the Tasman which has been a loss-making route in the past. Last year Air New Zealand and fellow airline investors in Virgin - Singapore Airlines and Etihad - agreed to pump A$350 million into the highly indebted carrier through a rights issue.
Virgin and Qantas have been locked in a fierce battle for market share in the Australian domestic market.
Virgin has been targeting the lucrative corporate sector with Qantas not budging from its goal of holding on to 65 per cent of the domestic market. Analysts at CIMB say Virgin's share price could fall further given intense competition and with less buying support coming from its major airline shareholders.