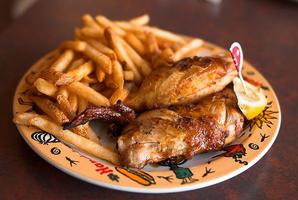 The company that runs the Nando's New Zealand restaurant chain has been placed in receivership.
Since 2006 the master franchise for the 31-store fast food business has been held by Shailen Ramjee, the sole director of Shivram.
Receivers Kare Johnstone and William Black, of McGrathNicol, said last night they had been appointed by an unnamed secured creditor and had taken control of Shivram and its assets.
The receivers said Nando's stores in New Zealand would continue to run as normal with the full support of Nando's Australia, which ultimately holds the licensing rights to the brand on this side of the Tasman.
"Our objective is to work constructively with Shivram's key stakeholders to stabilise operations to facilitate a thorough assessment of the company's financial position and prepare the business for sale and transition to a new owner," the receivers said.
The 31 Nando's stores, which are run by independent franchisees, are not in receivership.
The Herald yesterday revealed that Ramjee was facing criticism from a group of disgruntled current and former franchisees.
They claimed a lack of national marketing was stifling the chain's growth and store operators were required to buy ingredients they felt could be obtained more cheaply from other suppliers.
Some franchisees also questioned the financial state of Shivram, saying several franchisees were owed a substantial amount of money on loans they provided to the franchisor.
Last night Mr Ramjee said he found the action that had been taken "deeply hurtful after 10 years of dedication to building the Nando's New Zealand brand".
Shivram employs just three staff. It is not known how many full and part-time staff are employed in the 31 Nando's restaurants, but it is likely to be more than 300.
In a letter emailed to franchisees last night, Nando's Australia managing director Craig Mason said the company was committed to building the New Zealand business.