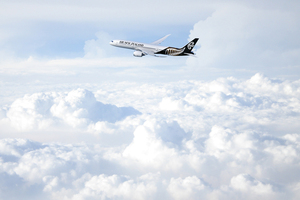 The Government has made $365 million from selling down its 20 per cent stake in Air New Zealand after pricing the shares at $1.65 a piece.
The price was in line with Friday's closing share price for Air New Zealand indicating strong demand for the offer.
Share sell-downs are usually priced at a discount.
Finance minister Bill English said including the Government's 53 per cent stake, 88 per cent of Air New Zealand would be owned by Kiwis.
Of the 221 million shares on offer 186 million were bought by New Zealand buyers.
Air New Zealand is due to come off a trading halt tomorrow morning.
Mr English said three quarters of the way through the Government's partial asset sales programme, the Government had "met our commitments to New Zealanders being at the front of the queue in achieving a minimum 85 per cent New Zealand ownership of the companies".
State Owned Enterprises Minister Tony Ryall said the price achieved "indicates very strong market confidence in our majority government owned national carrier Air NZ".
The price - the same as when the shares were put into a trading halt on Friday meant the float was "probably one of the most successful of these types of share sell downs in recent times".
"Usually sales of this type are completed with a discount to the trading price before the sale was undertaken."