Wall Street gained, sending the Dow Jones Industrial Average and the Standard & Poor's 500 Index to new records, amid further signals US economic growth is not yet strong enough to prompt the Federal Reserve to start pulling back its bond-buying program.
In afternoon trading in New York, the Dow rose 0.28 per cent, while the S&P 500 edged 0.05 per cent higher. Earlier in the session the Dow climbed to a fresh all-time high of 16,030.28, while the S&P 500 increased to a record 1,802.33. The Nasdaq Composite Index slipped 0.05 per cent.
New York Fed Bank President William Dudley reminded investors that predictions for an acceleration in the pace of growth in the world's largest economy do not yet make it so, underpinning expectations US monetary policy will remain very accommodating as indicated last week by Janet Yellen, nominated to succeed Ben Bernanke as the world's top banker.
"[W]hile growth in 2013 has been disappointing, I believe a good case can be made that the pace of growth will pick up some in 2014 and then somewhat more in 2015," Dudley said in a speech at Queens College in New York. "Despite near-term concerns, growth prospects among our major trading partners will improve further next year."
"As growth picks up, I expect to see more substantial improvement in labour market conditions and a gradual updrift in inflation back towards the FOMC's target rate," according to Dudley.
"However, the notion that the economy will grow more swiftly remains a forecast rather than a reality at this point," Dudley added. "Thus, we will continue to monitor US and global economic conditions very carefully and will adjust our views on the likely path for growth, inflation and the unemployment rate accordingly."
Yellen backs Fed US stimulus: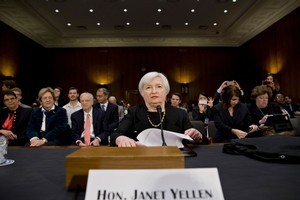 Among a slew of Fed officials scheduled to speak this week is Fed Chairman Ben Bernanke, due to talk on Tuesday, while investors are also eyeing the minutes from the Fed's latest meeting, due to be released on Wednesday.
"This week is crucial, there is a lot of Fed speak," Quincy Krosby, a market strategist for Newark, New Jersey-based Prudential Financial, told Bloomberg News. "Investors want to get a little bit more colour and atmospherics from the minutes."
For now, economists polled by Bloomberg on November 8 predict policy makers will decide to pare the pace of purchases to US$70 billion a month at their March 18-19 meeting.
Meanwhile, the National Association of Home Builders/Wells Fargo Housing Market Index, a gauge of builder sentiment, was unchanged at 54 in November from a revised October reading that was weaker than initially estimated. It was below expectations for a 55 reading as predicted in Bloomberg and Reuters surveys.
"Policy and economic uncertainty is undermining consumer confidence," said NAHB Chief Economist David Crowe in a statement. "The fact that builder confidence remains above 50 is an encouraging sign, considering the unresolved debt and federal budget issues cause builders and consumers to remain on the sideline."
In Europe, the Stoxx 600 Index added 0.5 per cent. The UK's FTSE 100 Index gained 0.5 per cent, while Germany's DAX increased 0.6 per cent, and France's CAC 40 rose 0.7 per cent.