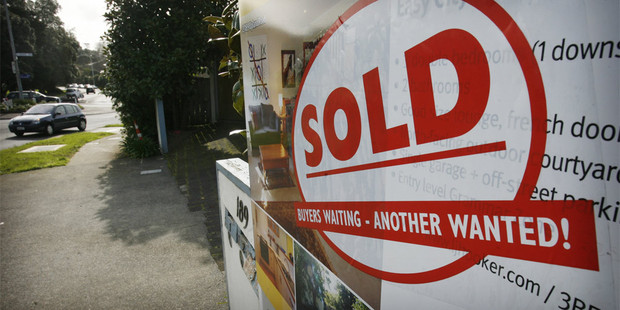 New Zealand property values rose at an 8.9 per cent annual pace in October, driven by a shortage of houses in Auckland and Christchurch, showing a limited impact from bank lending restrictions introduced at the start of the month, according to state valuer Quotable Value.
Property values in the Auckland area rose at a 14.5 per cent annual pace while Christchurch values are 11.8 per cent above last year, the agency said. The national pace accelerated from 8.4 per cent annual growth in September.
"As has been the case for some time, current nationwide value increases are largely driven by Auckland and Canterbury," QV research director Jonno Ingerson said in the statement. "Most of the rest of the main centres are also increasing but at a slower rate. In contrast, many of the provincial and rural areas have declined in value."
Rapidly accelerating house prices in the country's two biggest cities raised fears of an asset bubble emerging and prompted the Reserve Bank last month to impose restrictions on high loan-to-value ratio lending.
The impact of lending caps will be most felt by first home buyers, and in provincial areas, affecting volume and values although it will take some months before any evidence becomes clear, Ingerson said.
The Reserve Bank has signalled interest rates are set to rise from a record low 2.5 per cent next year and further increases are likely should lending limits fail to stem rapidly rising house prices. Population expansion in Auckland is outpacing housing supply while Christchurch is being rebuilt following a series of earthquakes.
Fewer potential buyers were turning up at some open homes in Auckland following the introduction of lending restrictions and some properties had to be relisted after not selling at auction, QV valuer Bruce Wiggins said. Still, sales of lower priced properties remained buoyant on investor demand, he said.
In other major centres, house values in the Wellington area rose at a 2.3 per cent annual pace while Hamilton increased 5.1 per cent and Tauranga edged up 0.7 per cent.
Values in most provincial centres are increasing at a 2 to 3 per cent over the past year, although New Plymouth outpaced other centres with 5.3 per cent annual growth and Napier declined as lending limits impact first home buyers, the agency said.
Nationwide values increased 2.7 per cent over the three months to the end of October and are now 10.4 per cent above the previous market peak of late 2007, the agency said.