After years of oversupply, industry is back on road to profitability, says firm's boss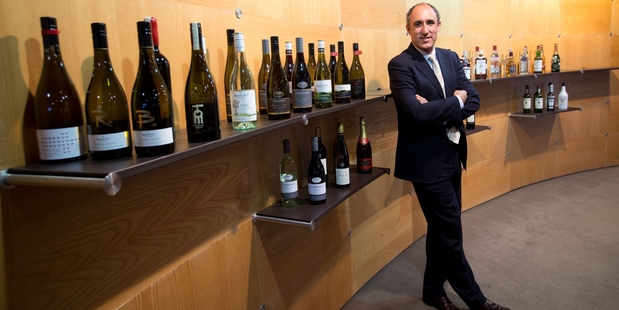 Profitability is returning to the wine industry after several years of grape oversupply, says the local boss of one of the world's biggest wine firms.
Fabian Partigliani, New Zealand managing director of Pernod Ricard Winemakers, whose brands here include Brancott Estate (formerly Montana) Stoneleigh and Church Road, said supply and demand had finally come back into balance.
"From 2008 to 2011 we were in oversupply and the good news is that underneath that, demand has continued to grow steadily and supply has slowed down," Partigliani said. 'We're in balance, which is really good, and therefore we're seeing value growth instead of volume growth. It's a value story, which is really important for New Zealand because we can't compete on volume - we're never going to be a scale producer."
A bumper vintage in 2008 resulted in a 27 million litre glut that eroded wine, land and grape prices and led to a surge in exports of cheaper bulk wine.
Partigliani, an Australian whose father emigrated from Italy in the 1950s, said that while Brancott Estate's volumes had increased only 3 per cent in the past financial year, profit had lifted by 8 per cent.
"It's good news for the whole supply chain, from growers right through to retailers."
Partigliani said it was crucial local winemakers kept innovating and investing in their brands and didn't take the international success of New Zealand wine, particularly sauvignon blanc, for granted.
Pernod had made changes to its business model during the years following the glut in order to be well placed when the market "dynamics" improved, he said.
"To the credit of ourselves and other competitors, we invested behind the brands and took a long-term perspective."
Partigliani said Pernod had disposed of North Island assets - including its Hawkes Bay winery in Napier - to focus on the Marlborough region.
The company sold its Gisborne winery and 2010 and in late 2011 offloaded 12 of its brands, including Lindauer sparkling wine, to brewing giant Lion.
"It was all about reshaping our footprint to meet the export potential which we believe is Marlborough-centric ... based around sauvignon blanc," said Partigliani.
One of the company's recent innovations is Flight, a low-alcohol sauvignon blanc, pinot gris and riesling sold under the Brancott Estate label.
Partigliani said Flight's alcoholic content was lowered through harvesting the grapes earlier, rather than a reverse osmosis process sometimes used to reduce alcohol that "compromised taste".
New Zealand was well-placed to take advantage of a global shortage in wine, he added.
Global wine production peaked in 2004 and has been steadily falling since, with international demand outstripping supply by 300 million cases last year, resulting in "the deepest shortfall in over 40 years of records", according to a new report by US investment bank Morgan Stanley.
The report said plummeting European production - a result of "ongoing vine pull and poor weather" - was partly to blame. The shortfall was expected to result in a "significant increase in export demand, and higher prices for exports globally".
Partigliani said all of Pernod's New Zealand brands were performing well in export markets.
"We had particularly good results out of the UK last year. We grew 20 per cent," he said. "In Sweden we grew about 27 per cent and in Canada and the US we're in double-digit growth."
Partigliani said Pernod had recently acquired a winery in northern China called Helan Mountain.
"This gives Pernod Ricard an opportunity to have a Chinese winery and a wine for the Chinese market," he said. "The idea there is to develop scale in the Chinese market and then use the winery to import the rest of our wine portfolio [into China]."
Partigliani said Yinchuan, where the Chinese winery is located, had a challenging climate for winegrowing.
"In winter they have to bury the vines in order for them to survive."
The company changed the name of its global wine division from Premium Wine Brands to Pernod Ricard Winemakers last month.
"It really reflects the importance wine will play in Pernod Ricard's future," said Partigliani.
Globally, Pernod's brands include Jacob's Creek wine in Australia, Absolut Vodka, Jameson whiskey and Havana Club rum.
The Paris-based company reported total sales of 8.6 billion in its last financial year.