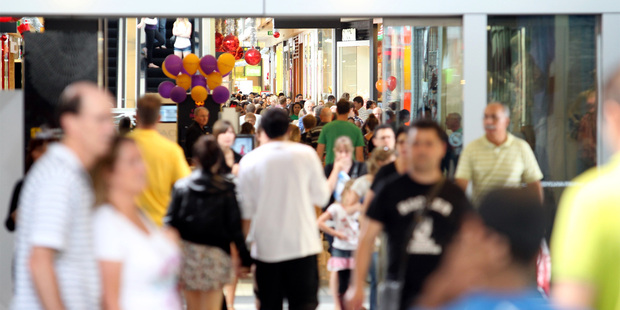 Business confidence rose to its highest in more than three years in the third quarter and broadened beyond Canterbury, according to the latest Quarterly Survey of Business Opinion from the New Zealand Institute of Economic Research.
A net 32 per cent of businesses were optimistic in the September quarter, seasonally adjusted, up from a net 30 per cent in the June quarter, the institute said. That is the highest since March 2010 when a net 33 per cent were optimistic.
Domestic trading activity, which is closely aligned with economic growth, rebounded in the quarter with a net 11 per cent of firms experiencing a pickup in their own activity, the highest level in 10 years, the institute said. That's an increase from a net 5 per cent in the June quarter and 10 per cent in the March quarter. The latest reading is consistent with about 3 per cent annual economic growth in the September quarter, the institute said.
"Businesses are optimistic, activity is rebounding and this is being gradually realised into more jobs and profits," said NZIER principal economist Shamubeel Eaqub.
"Encouragingly, momentum is lifting outside of Canterbury. We are still not seeing inflationary pressures but it is definitely heading upwards."
ANZ Bank economist Mark Smith said today's QSBO signalled & 34;a solid pace of economic expansion over the middle of 2013. However, the necessary shift in resources to facilitate the Canterbury rebuild and meet resource requirements elsewhere is likely to lead to additional tensions that will eventually be reflected in prices.
"The September MPS view was that rising consumer spending and a broadening national recovery in construction activity will support the lift in aggregate activity, with growth to firm to 3½ per cent by mid-2014. In the meantime, a low inflation starting point and concerns over the high NZD, as well as the October introduction of speed limits to high LVR housing lending, rising fixed mortgage interest rates, and tightening fiscal policy provide the Reserve Bank with scope to wait before pulling the trigger. OCR increases remain on track for the first half of next year," said Smith.
NZIER said trading activity remained strong in Canterbury, even as it eased in the third quarter. A net 21 per cent of firms in Canterbury experienced growth in September, down from a net 25 per cent in the June quarter, the institute said. Activity is accelerating outside of Canterbury, increasing to a net 12 per cent in the third quarter from a net 6 per cent in the second quarter.
A net 17 per cent of firms expect to hire more workers in the next quarter, up from a net 9 per cent last quarter.
Costs and prices remained subdued in September, the institute said. Inflationary pressures are concentrated in Canterbury, but there is little evidence of this spilling over to other regions yet, it said.
A net 24 per cent of firms expect to raise selling prices, up from a net 22 per cent last quarter. Meanwhile, a net 26 per cent expect average costs to rise, down from a net 29 per cent last quarter.
A net 12 per cent expect profits to increase in the next quarter, up from a net 1 per cent in the previous quarter.
Westpac senior economist Michael Gordon said the survey suggested "a broadening in the economy's upswing in the last three months. Architects and building firms have been upbeat for some time, but there was a strong lift in confidence in the retail and services sectors in the September quarter. Manufacturers' confidence slipped in September, although it remains at historically high levels."
"This survey is consistent with our forecast of 1 per cent GDP growth in the September quarter. While on its own the latest reading is consistent with around 0.8 per cent GDP growth, the QSBO does not directly cover agriculture and hence is likely to understate the impact of the recovery from drought (just as it understated the negative impact of the drought on growth over the first half of this year)," he said.
The survey contained some new news for the employment category, with ASB Bank economist Daniel Smith describing it as "perhaps the most encouraging result from the latest QSBO"
"Employment over the past quarter dipped from 3 to 1, remaining very subdued. However expected hiring (over the next quarter) jumped from 9 to 17, the strongest reading since Q4 2004. That suggests that labour market conditions are likely to improve more rapidly," he said.