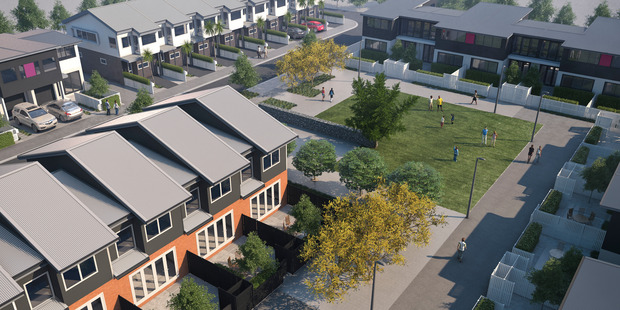 Rats, traffic, overcrowding, pollution, noise, pohutukawa removal, monotonous buildings, contamination, dust, grime and smells were objections raised against plans for New Zealand's biggest, most intensive housing estate.
Mt Wellington residents decried developer Tony Gapes of Redwood Group and his plans for 424 apartments and townhouses on the old Zealandia Nursery site on the Mt Wellington Highway.
Auckland Council's report into the resource consent application showed 15 parties opposing him, expressing fears that his Springpark would become a rental slum.
Only one submission, from neighbour Thomas Czebely, supported his attempt to resolve the city's housing affordability crisis, although a number, including Ngati Whatua Orakei's Whai Maia, were neutral.
Neighbours worry there could be a lack of parking for residents at the huge new estate now being sold off the plans, think plans should have been more widely notified, fret about traffic delays at intersections and say rats in the area must be poisoned before earthworks begin.
Lack of recognition of archaeological aspects was raised because bones and shells from a pa site were being "continually found at 1/29 Ryburn Rd". Recognition of the land's significant history was called for, via commemorative plaques and names on the park and streets.
Calls were also made for a stand of pohutukawa and other native trees to be kept. Another neighbour was concerned about the safety of children walking to and from school while another said projects like Springpark were "prone to building quality issues".
The number of places, size and layout were out of character with the surrounding area, almost exclusively stand-alone houses on bigger sections, neighbours also said.
Gapes wants to develop the townhouses, apartments, a cafe, hairdresser, dairy and greengrocer, roads, footpaths and a 2500sq m park. The scheme aims to meet demand for lower-priced homes with marketers Colliers International indicating a $320,000 to $550,000 price range.
Gapes developed Scene One, Two and Three apartment blocks on Beach Rd, Eden One and Eden Two apartments beset by weathertightness issues and has big plans for Orakei land.
The council is processing Springpark on a limited notified basis and said it had been to the Urban Design Panel a number of times. A decision is pending.
Springpark
* Apartments and townhouses on 10.5ha Mt Wellington site
* 33 Panama Rd, 98-100 Hillside Rd, Mt Wellington Highway, 11 Ryburn St.
* 424 new residences planned by developer Tony Gapes' Redwood Group.
* 52 two-bedroom, 204 three bedroom, 21 four-bedroom terraces.
* 65 one-bedroom, 77 two-bedroom, five three-bedroom apartments.
Source: Auckland Council report on resource consent application.