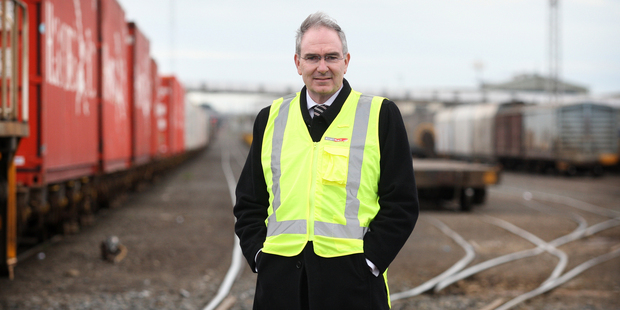 KiwiRail has lifted its operating surplus despite weathering storm damage, industrial unrest and a fall in bulk freight income from coal and milk.
The state-owned rail operator is today reporting an annual surplus of $108.2 million - 3.1 per cent higher than its previous result and $1 million to $4 million above what it expected six months ago.
That follows what chairman John Spencer says is KiwiRail's fifth year of revenue growth, to $727 million, more than 25 per cent higher than in 2009.
But out-going chief executive Jim Quinn acknowledges the company he has led since then faces a tough climb to achieve financial sustainability by 2020 - the horizon of a $4.6 billion "turnaround" plan into which the Government has so far pumped $843 million to attract new business needed to provide most of the traction.
A growth graph revised to take into account factors such as reduced revenue from state-owned coal producer Solid Energy and an early end to the milk season after the summer drought discloses a gap between earnings and required investment persisting beyond 2022.
KiwiRail also lost at least $2 million from storm damage and $1.1 million from business cancellations under threat of a strike on the Cook Strait ferries in December.
Quinn described the graph as "a reasonably pragmatic view of where things are", but pointed to strong customer confidence demonstrated by an upsurge in sidings for third parties along KiwiRail's 4000km network, such as at a new Fonterra site in Canterbury and at a branch of freight-forwarding company Mainstream due to open in Auckland today.
"We have just got to keep our feet on the ground and go hard, but I am really heartened by the level of customer support and great efforts by our wider team, so it wouldn't take a lot for that to change," he said of the graph.
Spencer said KiwiRail spent $337 million on 20 more new locomotives, 300 more wagons and continuing infrastructure upgrades, but had been faced with hard decisions such as selling Dunedin's Hillside workshop and mothballing the Napier-Gisborne railway line "to ensure the focus on building a commercially viable business was maintained."
After depreciation of $61.9 million, and an "impairment" write-down of $399.3 million of company assets, KiwiRail ended the year with a net loss of $174.6 million.
That compared with a far heftier loss of $2.3 billion in 2011-12, again mostly from an impairment write-down, but has devalued the company's assets to just over $1 billion.
Overall freight income rose 2 per cent to $466.8 million, with growth in the forestry, import-export and domestic sectors more than making up for the milk and coal setbacks.
The Cook Strait ferries contributed $124.3 million - an 0.3 per cent increase - and infrastructure revenue largely from rail access fees from Auckland and Wellington ratepayers and taxpayer subsidies rose 12 per cent to $38.3 million.
Although revenue from long-distance Tranz Scenic passenger trains fell 1 per cent to $20.1 million, as tourism remained hampered by a lack of hotel beds in earthquake-damaged Christchurch, the re-launched Northern Explorer service between Auckland and Wellington saw a 12 per cent rise in passengers.
And despite a 4.6 per cent fall in revenue from KiwiRail's Tranz Metro operation of Wellington's commuter trains, the company reported an increase in fare-box takings of 6 per cent after the rollout of the capital's third generation of electric trains.
Quinn said that augured well for the introduction of Auckland's new electric trains from April, which will be run by the Super City's rail operator Transdev (formerly Veolia), until KiwiRail joins bidding for a new contract from mid-2016.
Facing the end of his appointment in February, he remained "absolutely" convinced the previous Labour Government did the right thing in buying back the company after years of under-investment by private owners.
"Only a government could have fixed it," he said.
"There's a lot of speculative debate about whether we need a railway or not, but if you talk about people who put money into the railway every day, they can't think of anything more barking mad than New Zealand not having a railway.
"Customers who spend millions of dollars a year, not only in freight charges but in the investment they are making in building on the tracks, these customers are deeply committed - and that's the reason the Government has invested."