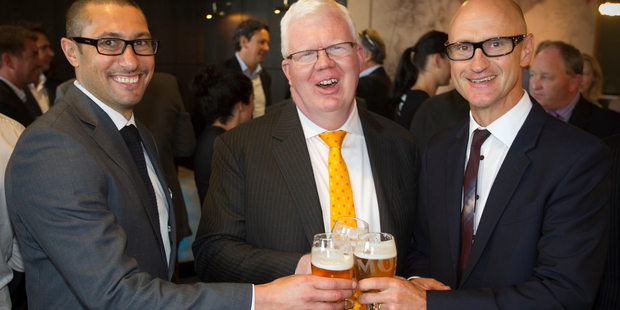 Moa chief executive Geoff Ross says the company's poor trading update, which pushed its share price down by as much as 32 per cent this morning, is "outrageously disappointing".
The craft beer maker is forecasting a 30 per cent drop in full-year sales volumes - largely as a result of a sales shortfall in the New Zealand market - from its previous target and is blaming its local distributor, Treasury Wine Estates, for the problem.
Ross said the trading update had "created a hole in the numbers".
"But we're going to move quickly to fix that," he said.
Ross said Moa, which listed on the NZX in November last year, was working towards getting a new New Zealand distributor and "a completely different distribution model" in this country.
"It's a model that we're familiar with from the past and we'll be much closer to the customer ourselves in that model," he said.
Ross said the distributor did not have "skill set" required to drive Moa's sales in New Zealand.
The company's drop in sales was not the result of fierce competition in this county's craft beer space, he added.
"There will continue to be a lot of [craft] brands, which isn't concerning for us - we think that's a good thing because it's driving growth in the overall category."
Grant WIlliamson, a director at sharebrokers Hamilton Hindin Greene said the Moa announcement had come as "quite a big shock" to the market.

"It is quite an illiquid stock so movements can be exaggerated somewhat but probably the decline is warranted given the very disappointing sales figures," he said.
"They are taking action, they are looking at distribution and they are making changes," said Williamson. "Geoff Ross has a very good history of growing these types of early start companies so I think there obviously is room for a lot of improvement.
"You would hope the company can turn things around from here but it is going to be a relatively long process," Williamson said. "You wouldn't expect too much improvement in that share price until there is a clear sign that they have got sales growth on the right track."
Moa's sharemarket float in November raised $16 million, which was being used to expand capacity at its Blenheim brewery.
Shares initially traded at an 8 per cent premium at $1.35 each but have since eased back before this morning's rapid drop in value.
Moa was now being consumed in 10 countries and its main markets are New Zealand, Australia and the US.
with BusinessDesk