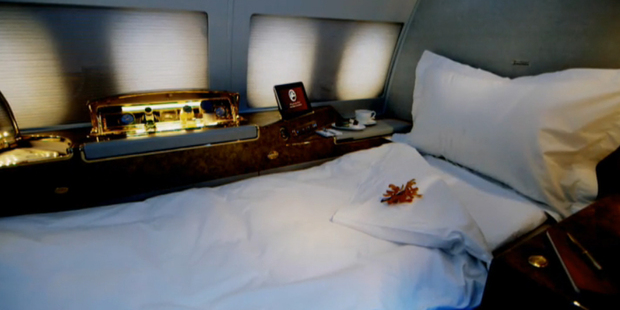 Emirates is taking first class travel up a notch with a luxury private jet service.
The plane is only slightly smaller than the Airbus planes that fly domestic routes in New Zealand and across the Tasman but is set up for just 19 passengers and kitted out with private suites, a large lounge, and a shower with underfloor heating.
The Airbus A319 has a basic list price of about $105 million but has been remodelled into two main zones.
The first area is a dining and executive lounge at the front of the aircraft designed to seat up to 12 passengers, combining a work area and a rest zone with two large sofas surrounding four tables and two 42in screens.
A second area comprises 10 private suites each featuring a lie-flat seat and a 32in screen.
Emirates says its private jet service will be "competitively priced" but would not release details.
One New Zealand luxury tour operator said he had priced a charter from Europe to this country in a similar sized jet at about $500,000.
The airline said the private jet would offer "multi-course culinary options and the finest selection of hot and cold beverages as well as customised options to suit any palate or dietary requirement".
Personalised service for customers includes booking an aircraft at short notice and a premium chauffeur drive service.
Jean-Michel Jefferson of of Central Otago's Ahipara Luxury Travel said there was a segment of the market where money was no obstacle.
"I've got a US family coming over here for Christmas. They're having to bring their own private jets - they fly in two of course - so those guys are relatively impervious."
Flight Centre's executive general manager Mike Friend said there was demand for such high end travel and he expected to see the Emirates Executive here "some time".