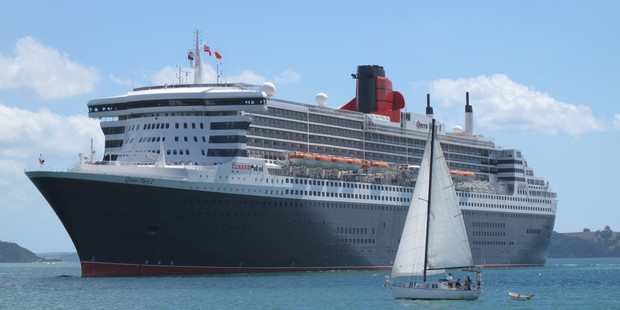 Cruise ship visits to New Zealand are set to ease from the latest bumper season, but that has not diminished hope of seeing more tourism dollars.
Last summer cruise ships brought more than 211,000 passengers to our shores, a leap of 21.6 per cent from the year before, Cruise New Zealand reported yesterday.
That pumped just over $310 million into the economy, of which $116 million came ashore in Auckland.
The industry group acknowledges the loss of a big Carnival cruise ship will contribute to "a slight contraction" to about 200,000 passengers for the next two seasons.
But founding chairman Captain Craig Harris - who is stepping down after overseeing a more than tenfold increase in passengers since 1994 - believes more people starting or finishing cruises here will see a slight rise in economic value, to $311 million over the season starting in October.
He said "exchange" connections, rather than transit visits, brought more tourism dollars through airfares and potential hotel accommodation, although Air New Zealand is urging the industry to provide more domestic attractions to ensure people stay longer before or after their seafaring holidays.
Mr Harris said it was encouraging to see a large increase in American passengers, whose number jumped by more than 40 per cent last summer to 36,500 and who accounted for most exchange connections.
Australians still represent 53 per cent of cruise passengers arriving in New Zealand.
Auckland Mayor Len Brown said the cruise industry's latest contribution to the Super City's economy was $2 million higher than forecast, and last week's reopening of a refurbished Shed 10 on Queens Wharf as its primary passenger ship terminal put it on track "to significantly grow earnings" in coming years.
"Shed 10 is a signal to the industry that we want more visitors to our region and we're prepared to invest to bring them here," he said.
Cruise NZ expects Auckland's income from ship visits to ease to $115.5 million next summer, from $116.3 million last season, with increases forecast for Northland, Hawkes Bay, Otago and Southland.
Although $18.6 million has been spent on Shed 10, Mr Harris said Queens Wharf needed to be lengthened and strengthened to provide enough capacity to help the industry over a looming "tipping point".
He said the industry had to persuade the Government that investing in waterfront infrastructure would be worth its while, and to spend more of its tourism budget in New Zealand rather than on overseas marketing.
Cruising along
The 2013-2014 cruise season is forecast to account for:
33 ships
121 voyages
739 total port days
200,000 passengers and 78,000 crew
$311million in added value
5361 jobs