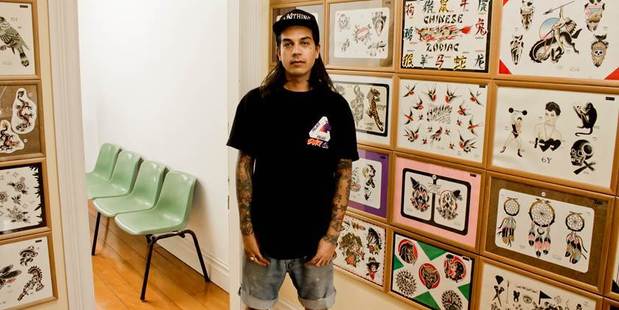 What services do you offer?
Two Hands offers custom tattooing from some of the country's best tattooers. Each of our artists has a unique style and will work with a client through a consultation process to create a unique one off piece. We also have a regular roster of some of the biggest names in tattooing from around the world, visiting the shop for guest spots, two to six weeks at any one time.
Flash City Tattoo is a tribute to the type of tattoo shop that existed before custom tattooing became the norm, when flash sheets covered the walls and tattoos were picked straight off the wall. All of the designs at Flash City are hand painted by the tattooers of Two Hands and by our friends from around the world. Flash City also features regular guest artists from abroad.
Flash City barbers is a classic traditional walk-in barbershop offering expert cuts, hot and cold towel wet shaves and hair products from JS Sloane of New York.


What are people looking for from their tattooist?
I think they're looking for someone they can trust to take an idea and develop it in to a perfectly constructed tattoo that will last the test of time.

What do you do that involves going the extra mile for customers?
The consultation process is extremely important and not something that should be rushed, so we don't actually charge for consultations. We know from past experiences that people will sometimes skip the consultation process if they have to pay for it.

Why did you bring in the Flash Days?
Flash Day gave us the opportunity to develop new ideas and put on what we felt were perfect tattoos. A custom tattoo is always a collaboration between the artist and wearer, and so from an artistic stand point we often need to compromise to some degree. The flash we paint is purely our own vision. Clients don't have the opportunity to veto any aspect of the design, and so it was a way for us to showcase our best work.

What are customers telling you that they want?

Most of our customers will reference our previous work. They'll bring in examples of tattoos we have done that they love, sometimes they'll explain exactly what they envision on themselves, other times they'll give us their arm or leg and free reign to do what we think will suit them best.

What are your beliefs around customer service?
What we are most passionate about is creating a space that everyone will feel comfortable in, regardless of age, gender, orientation or whether they are heavily tattooed or first timers.


Next week - we are going to be looking at the export sector and how small businesses can take their stories to the world. How do you tell international customers about your great product from this remote country?