Boss says healthcare supply chain group well placed to expand operation model across Tasman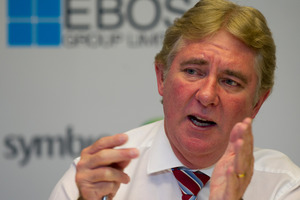 New Zealand healthcare distributor Ebos Group, which yesterday completed its billion-dollar acquisition of Australian pharmaceutical wholesaler Symbion, has a lot of scope for further expansion across the Tasman, says chief executive Mark Waller.
The purchase will boost the Christchurch-based firm's annual sales from around $1.5 billion to $6 billion, making it the third-largest company on the NZX in terms of revenue, behind Fonterra and Fletcher Building.
Ebos distributes well-known brands including Deep Heat and Anti-Flamme to New Zealand pharmacies, as well as Eukanuba pet food.
Waller said there was an opportunity for Ebos to enter the "pre-wholesale" market in Australia, which meant providing a full range of logistics services - including supply chain, invoicing, sales, regulatory affairs and financial reporting - to pharmaceutical firms and other healthcare manufacturers.
Waller said Ebos was already a major pre-wholesale player in New Zealand, but the market was relatively wide open in Australia.
"We think that between now and 2017 more and more of the large multinationals that have subsidiaries in Australia will be looking for alternative models [for selling and distributing products]," he said. "We are the best in the business at that so we'll be rolling that out through Symbion."
Waller said the pre-wholesale market was worth at least A$1 billion ($1.2 billion) in Australia.
Symbion is the largest Australian pharmaceutical wholesaler and distributor by revenue and supplies around 30 per cent of community pharmacies in that country.
The sale gave Symbion's former owner, Zuellig Group, a 40 per cent stake in Ebos and two seats on the company's board.
Last month Ebos was named the preferred bidder by the Government to secure the contract for providing supply chain services, for medical products, to all of New Zealand's District Health Boards.
Waller said securing that contract would mean the company could use Symbion's automated technology to establish a "supersite" distribution facility in Auckland.
Shares in Ebos, which have gained 42 per cent in the past 12 months, closed down 5c yesterday at $9.55.