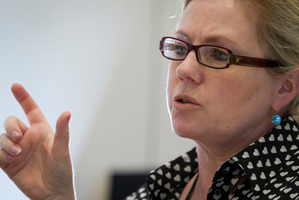 Diane Maxwell wants women to pick up their calculators and start making some tough financial decisions based on cold, hard numbers.
The newly appointed Retirement Commissioner is hot on the topic of raising financial literacy among women and believes part of the problem is that some women take an "emotional and spiritual approach" to their money.
Maxwell says women are often caught up in how they feel about making a financial decision while blokes have their calculators out doing the numbers.
She says women need to take their money decisions seriously.
"Women get to retirement with less money, they take time out for kids and earn less. They don't always make cold, calculated decisions."
More than half of the 2.1 million people signed up to KiwiSaver are female but some research has suggested women's nest eggs may be as much as 30 per cent behind their male counterparts.
Maxwell, who was a single mother for four years to her oldest child who is now 11, says she knows how important it is for women to be financially savvy.
"If they are not managing money as best they can, it impacts the whole household."
Maxwell says it's all about making behavioural changes.
"Many people know what they should do. I know I should eat more fruit and vegetables, do more exercise and go to bed early."
But she says that doesn't stop her from going home, having a glass of wine and staying up late.
"We all know this stuff - the question is what gets us to do it? And that is what I am keenly interested in."
Maxwell says a series of little bad decisions can snowball and put you in a bad place. But a series of little good decisions can also put you in a great place.